On April 30th in New York, Twitter held its annual NewFront presentation. Twitter announced over 30 premium video content deals, expanding the depth of its programming slate. With the 30 plus new and renewed programming deals across entertainment, news, sports, gaming and beyond, Twitter nearly doubled its content slate since 2017.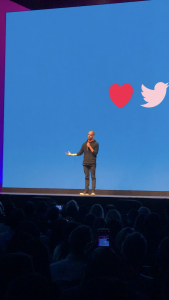 The continual push into video is due in part to Twitter's announcement that its daily video views have nearly doubled in the past year.
"Twitter is the only place where conversation is tied to video and the biggest live moments, giving brands the unique ability to connect with leaned in consumers who are shaping culture," said Twitter Global VP of Revenue and Content Partnerships Matthew Derella. "That's our superpower."
One of the new content partnerships unveiled by Twitter is with NBCUniversal, which will distribute a variety of live video and clips from across their portfolio of NBC, NBC News, MSNBC, CNBC, Telemundo, TODAY, and E! News.
On the sports end, Twitter joined forces with ESPN to take its flagship program, SportsCenter, live on Twitter Moments. @SCLive will deliver robust breaking news coverage through the innovation of the Moments experience