On May 3rd in New York, YouTube held its annual Brandcast presentation. Attendees heard from Susan Wojcicki, CEO of YouTube and Robert Kyncl, Chief Business Officer of YouTube. YouTube announced new original content from creators like Will Smith, as well as its plan for growth in the TV industry.
"Users now watch over 150 million hours of YouTube on TV screens every day. And nearly 7 out of 10 YouTube viewers say they watch YouTube on a TV screen," said Wojcicki. YouTube continues to grow in the TV space. According to Nielsen, more than half of 18- to 49-year-olds in the U.S. are either light viewers of TV or do not subscribe to TV; but over 90 percent of these people watch YouTube.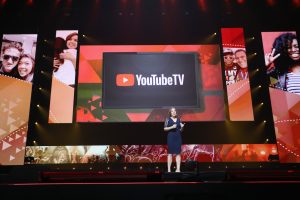 One way YouTube seeks to continue its penetration into US households as a means for TV is through its Originals. "We're also building on the success of YouTube Originals," said Kyncl. "Last year, we launched 7 shows, which amassed over 700 million views."
This year, YouTube unveiled new Originals from Will Smith and Priyanka Chopra, as well as "Best Shot", executive produced by Lebron James.