For large entertainment companies, attracting and building loyal audiences is as much art as science; viewers come and stay for the former, but they never really have much insight into the latter.
As part of its "For all Fankind" commitment, Viacom and its Global Consumer Insights division today launched Fan Theory, an interactive digital experience that enables consumers to better understand what really makes fans tick.
"Viacom is committed to understanding audiences in new and innovative ways to form deeper connections with fans," Christian Kurz, SVP of Viacom Global Consumer Insights, told Found Remote. "Our audiences are constantly evolving, and we have to evolve with them. For this project, we collaborated with audience scientists and even neuroscientists to look at our fans through new perspectives."
The exploration, comprised of interactive data visualizations on a new microsite, fantheory.viacom.com, looks at fandom through three lenses: cultural trends, personal attitudes and beliefs, and the brain activity of fans.
One of the explorations, "The Intersection of Stories and Cultures," examines a chicken-or-the-egg question: does culture influence what we see on TV and in the movies, or do the stories themselves influence culture. Some of the findings include:
The first time in the last 50 years that the top-grossing film incorporated LGBT-related topics was in 1996 – the same year President Bill Clinton signed the Defense of Marriage Act, banning federal recognition of same-sex marriages.
Of the last 50 years, 2016 had the lowest number of top films and TV shows incorporating tobacco-related topics.
The rise of new technology developments in the eighties and nineties (including computers, mobile phones and the Internet) is mirrored in the upward trend in the number of top films and TV shows focused on topics related to them.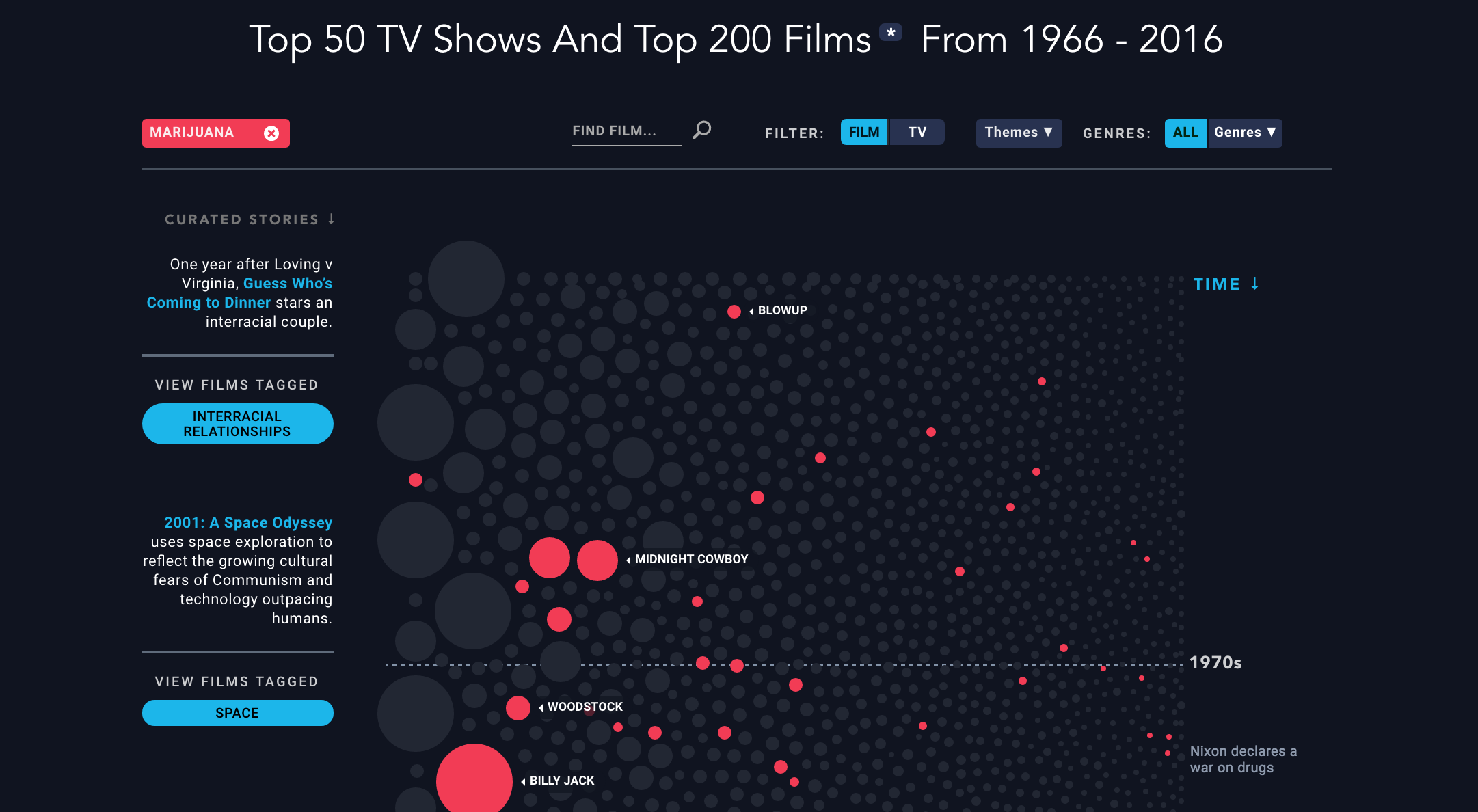 In another exploration, "You Are What You Love," the Global Consumer Insights team developed a framework to examine the relationship between different TV genres and what they say about the fans who watch them. Do personal attitudes and beliefs influence what consumers ultimately watch? Some of the findings include:
Basketball fans are 28 percent more likely to agree that they like to show off.
Fans of home improvement shows are 13 percent less likely to agree that they're the center of attention.
Fans who love entertainment reality shows are 54 percent more likely to agree that they crave excitement.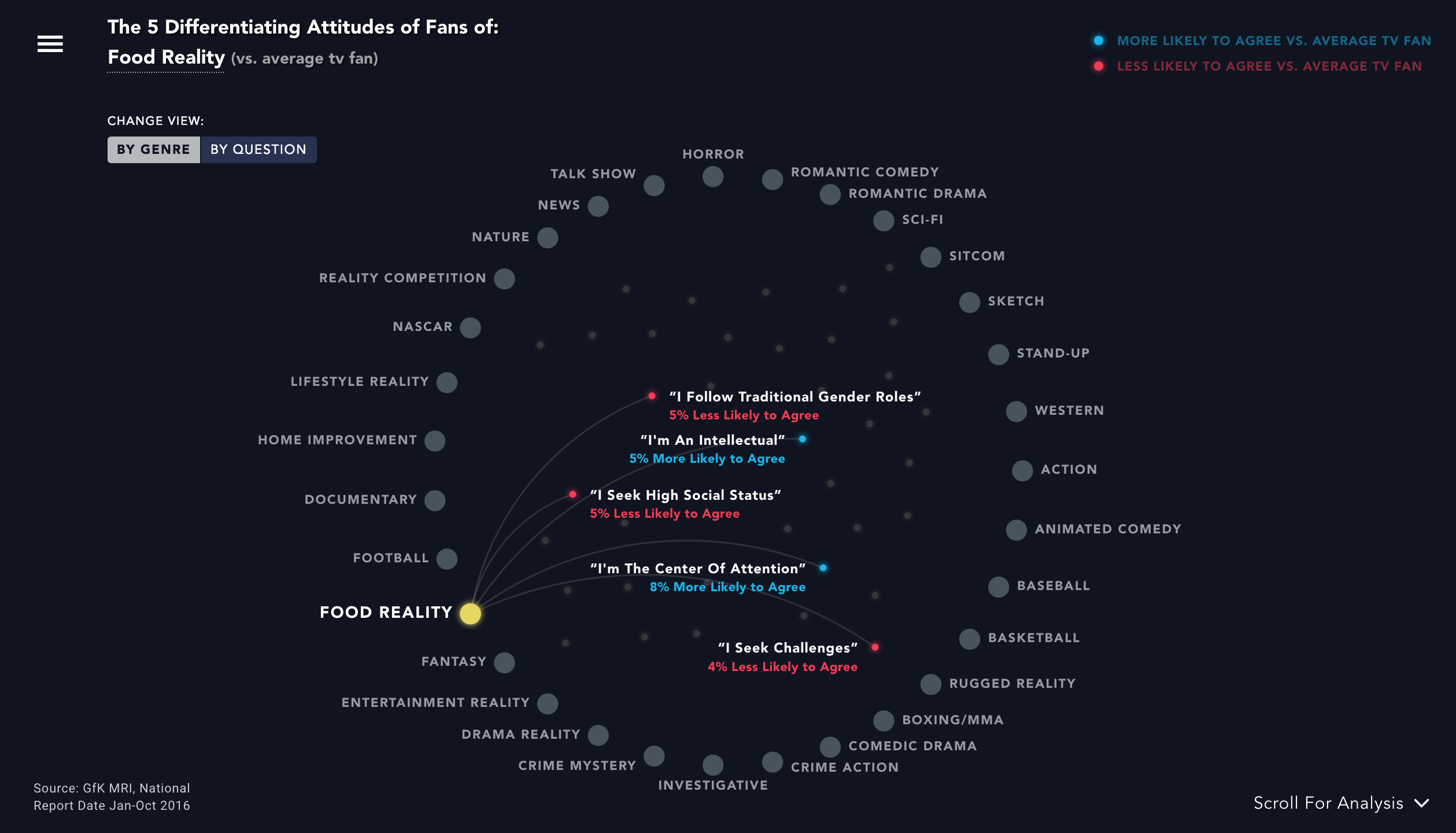 Here's where things get fun: can content elicit different biological responses in fans and non-fans? In a third exploration, "Inside the Brain of A Fan," Global Consumer Insights partnered with neuroscientists to conduct first of its kind fMRI research, with fans and non-fans watching the title sequence of South Park. The research found that the title sequence of a show can actually affect a viewer's brain like a drug. Fans of the South Park showed increased activity in the reward region (this same part of the brain plays an active role in addiction and drug reinforcement) of the brain compared to non-fan.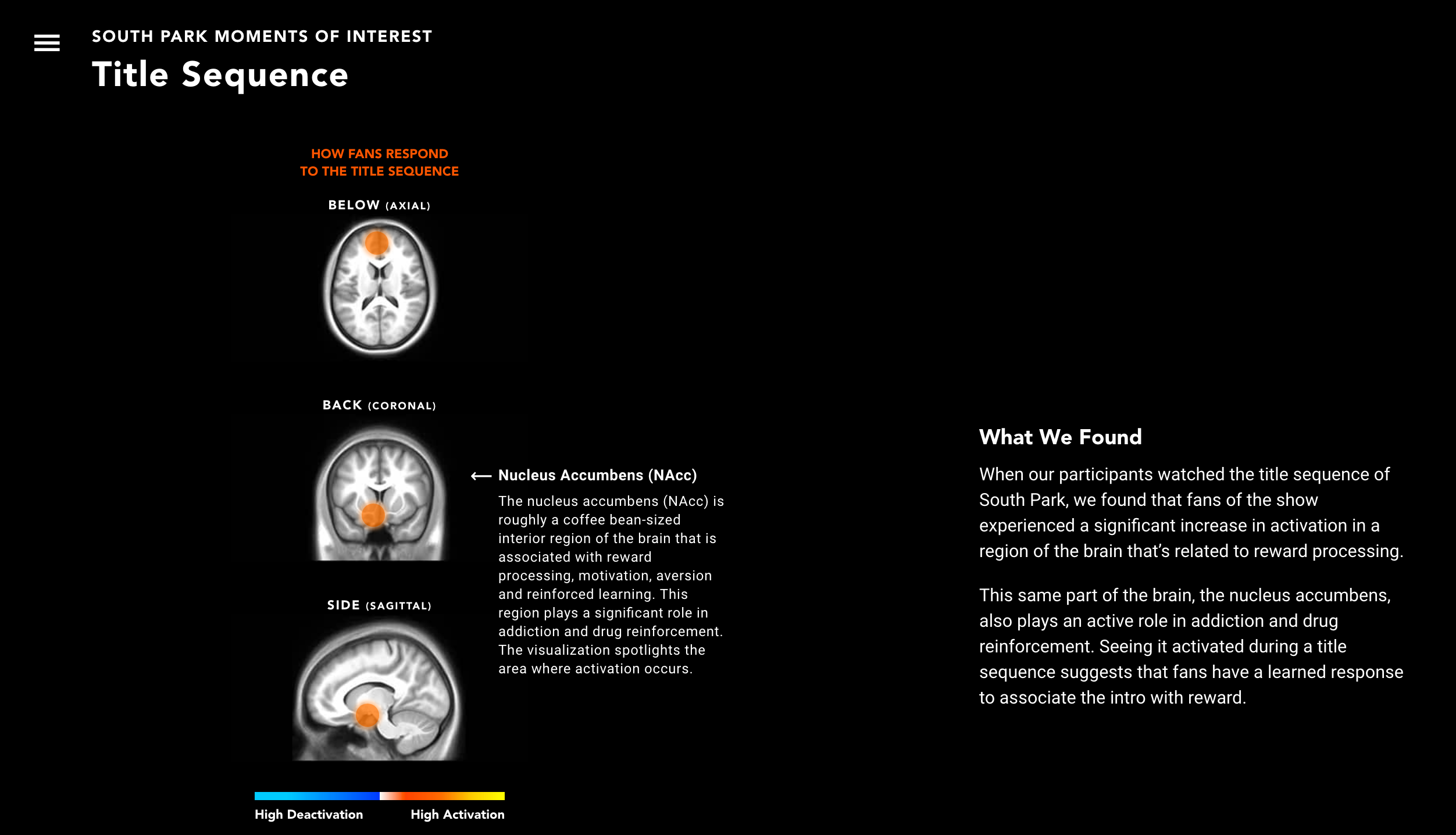 Market research is par for the course for all brands, but with how rapidly content consumption habits are changing, entertainment brands in particular must adapt:
"We have the youngest audience in our competitive set and they are always early adopters to new ways to consume and engage with our content, so our frequency of studying their behavior has increased," said Kurz. "We are constantly exploring the impact of our interconnected world as fans' influence continues to grow and the lines between fans, content creators, and brands grow fainter. The more we know, the more we can anticipate proactively."