When brands make an emotional connection with viewers through ads – whether happy, sad, humorous, or something else – consumers take to social media to react in real time. In March, several of the top brands by social lift caused a stir with humorous ads, including DirecTV and Arby's.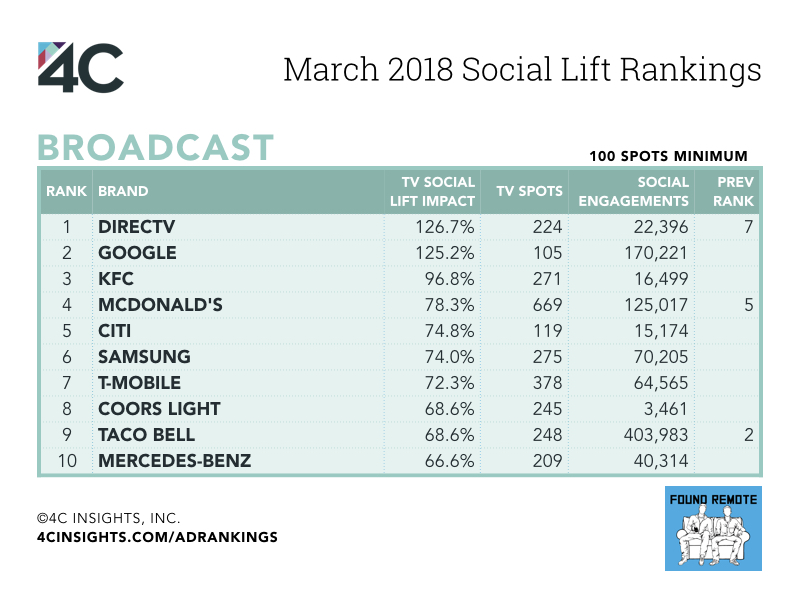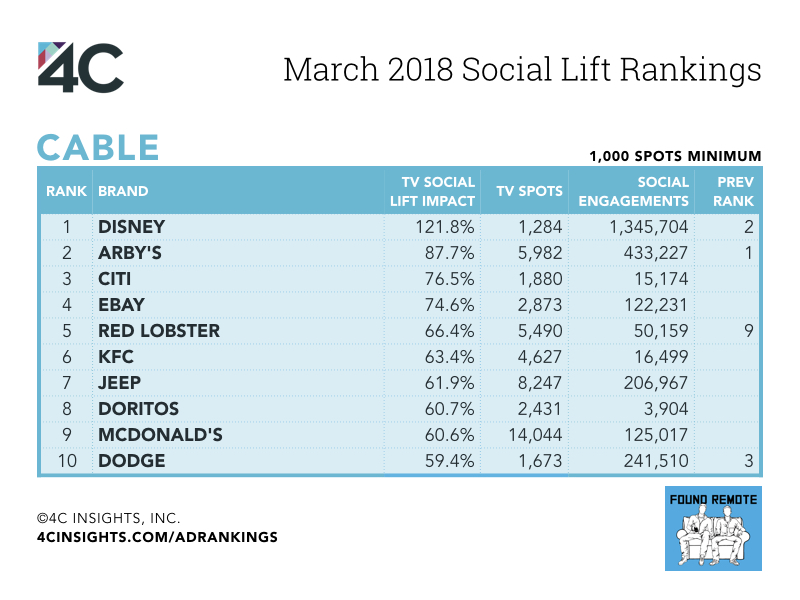 DirecTV took the top spot for broadcast advertisers thanks in part to its ads comparing people who still like cable to those who enjoy things like drinking spoiled milk and camping in poison ivy.
Google's ads featuring the Google Home Mini's smart home capabilities earned the brand the second spot for broadcast advertisers.
Disney's extended trailers for Coco landed the top spot in the cable rankings in March.
Arby's stayed in the top two for cable advertisers with its ads comparing the brand's logo to a fish jumping out of water.
Methodology from 4C:
To assess the TV ads generating the greatest consumer response on social media, 4C fuses data from Teletrax, its global TV monitoring network covering more than 1,300 U.S. Channels in all 210 DMAs, and its proprietary social affinity database with engagements from 2+ billion social media users across Facebook and Twitter.
By comparing each brand's social media engagements in the two-minute period after the start of a TV ad to the brand's average social media engagement rate, 4C calculates the TV Social Lift Impact. Ultimately this is a measure of how much more likely a consumer is to engage with with the brand on social media after seeing its TV ad.
For example, DirecTV's 126.7% TV Social Lift Impact means DirecTV's broadcast TV ads increased DirecTV social engagements by 126.7% in the two minutes following the start of an ad.