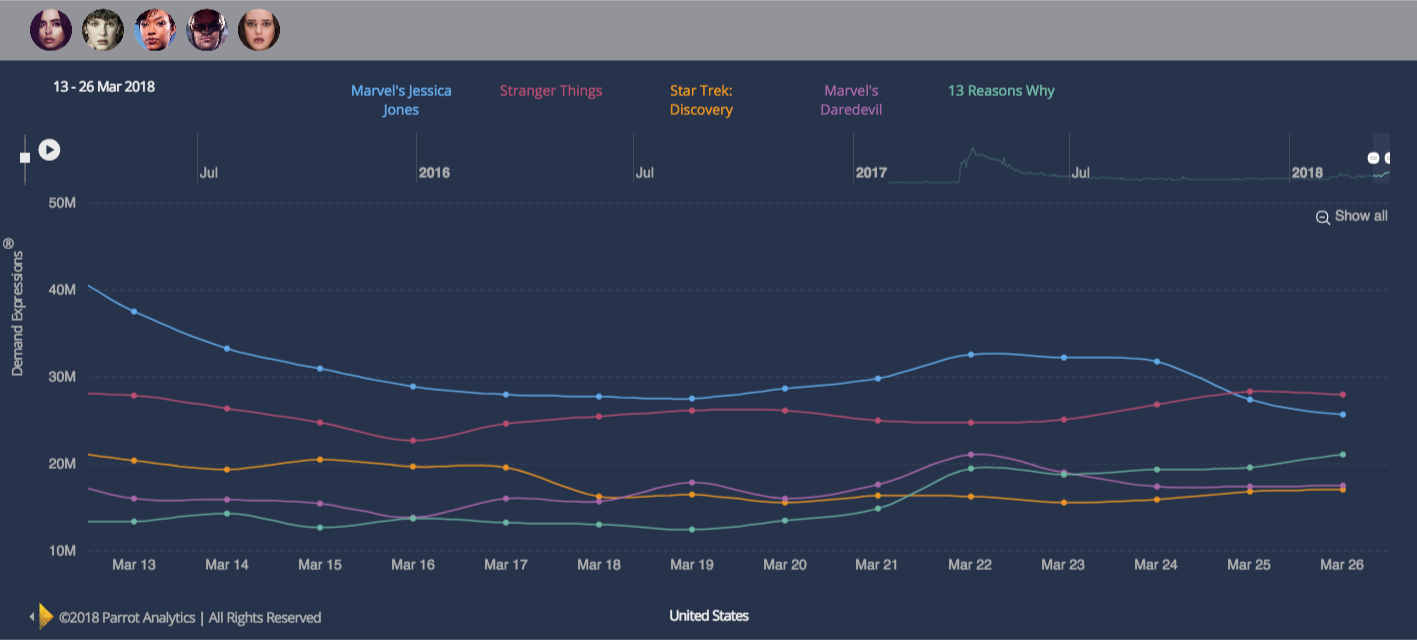 The feasibility of TV measurement lies at a crossroads in the entertainment industry as 6 in 10 young adults in the United States are now watching television online, according to Pew Research Center survey conducted in August 2017. Our CEO Wared Seger has recently addressed the fragmentation of TV measurement in his Cablefax article, titled "Measuring Popularity in a Multiplatform World."
Let us now look at our streaming series popularity chart, powered by demand data, for the US domestic market.
For March 13 – March 26, 2018 – Top Five Digital Original Series in the United States and Average Demand Expressions®:
Marvel's Jessica Jones, Netflix: 30,111,375
Stranger Things, Netflix: 25,814,188
Star Trek: Discovery, CBS All Access: 17,501,707
Marvel's Daredevil, Netflix: 16,881,969
13 Reasons Why, Netflix: 15,640,116
Insights from Parrot Analytics:
Marvel's Jessica Jones is back for Season 2 (which is available to stream at Netflix on March 8), forcing the reluctant superhero to confront who she is while digging deeper into her past to explore the reasons why. The superhero drama has twice the demand compared to Marvel's Daredevil. See the video below.
Finally, the teaser trailer for the second season of Netflix's 13 Reasons Why was released on March 22, featuring the cast. This may have contributed to the teen drama series returning to our top five ranking.
Parrot Analytics is a data science company that empowers media companies, brands and agencies to understand global audience demand for television content. Wielding the world's largest audience behavior data sets, the company has developed the world's only global cross-platform, country-specific audience demand measurement system.
Parrot Analytics captures an unprecedented spectrum of actual audience behavior including video streaming consumption, social media, blogging platforms, file-sharing and peer-to-peer consumption spanning 249 countries. This enables media companies, for the very first time, to understand audience demand for content across all content distribution platforms in all markets around the world.
For more insights visit www.parrotanalytics.com