Parrot Analytics' SVOD TV measurement, AVOD TV measurement, and broadcast TV measurement are based on Demand Expressions, the industry standard metric enabled by our demand measurement system, which captures the popularity of TV content across platforms and markets. In this article, we investigate which streaming TV series, as well as Pay TV, broadcast, and linear TV series, are currently the most in-demand in the American domestic market. As usual, our charts are powered by Parrot Analytics demand data.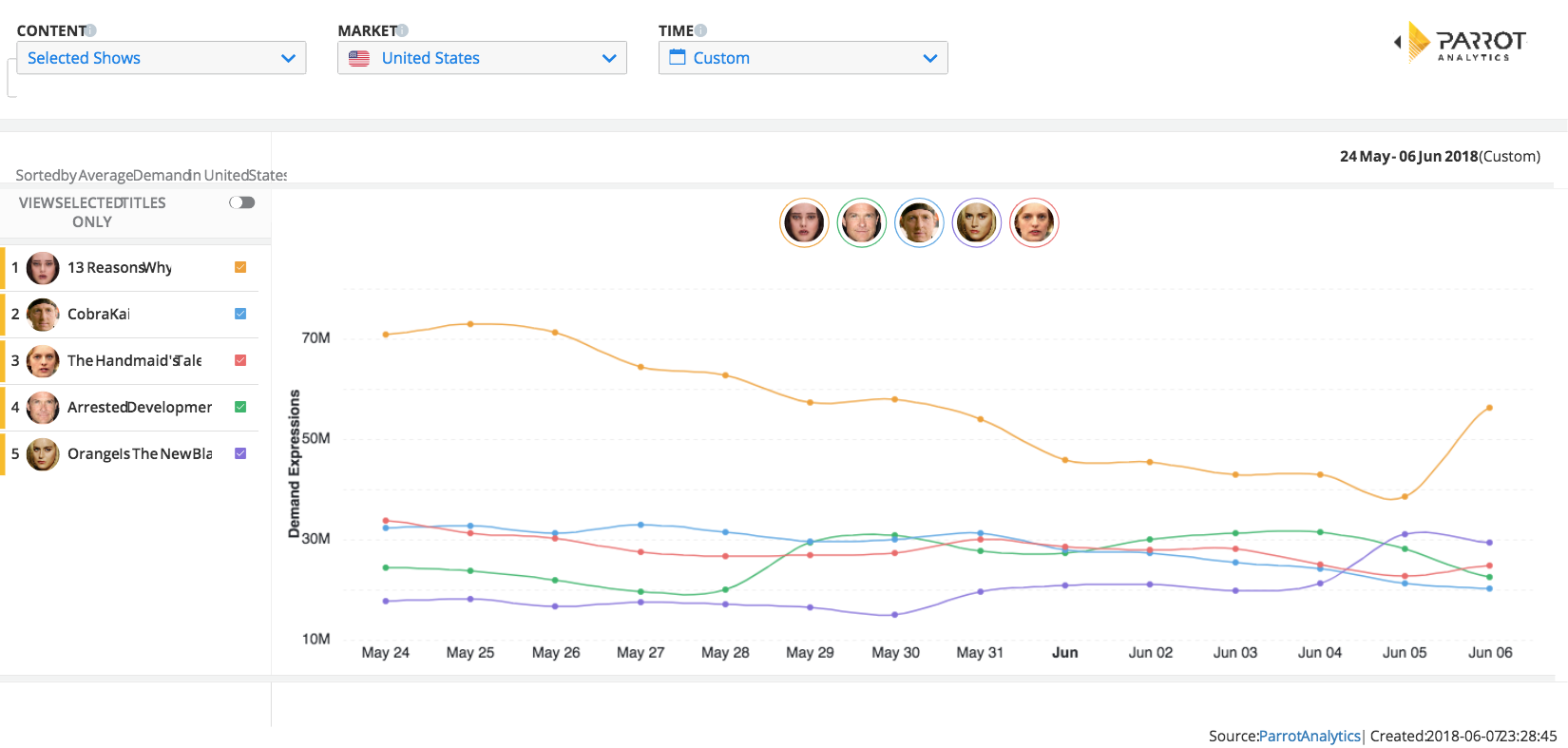 Here are the full insights from Parrot Analytics.
For 24 May, 2018 – 6 June, 2018 – Top five Digital Original Series in the United States and Average Demand Expressions®:
13 Reasons Why, Netflix: 55,971,656
Cobra Kai, YouTube Premium: 28,402,330
The Handmaid's Tale, Hulu: 27,884,693
Arrested Development, Netflix: 26,290,437
Orange is the New Black, Netflix: 20,104,823
Insights from Parrot Analytics:
One full week after the second season was released, Netflix's 13 Reasons Why has continued to have the upper hand in US demand, with 55.9 million Demand Expressions; its #1 ranking has remained unchanged from the prior week. The young adult-oriented drama is no stranger to incited moral outrage over its profound content. 13 Reasons Why was recently renewed for the third season.
Cobra Kai from YouTube Premium had slightly more demand compared to The Handmaid's Tale, which currently airing episodes weekly on Hulu. Following Martin Kove's appearance in the Season 1 finale, the Karate Kidalum is joining the cast in season two, causing demand to increase.
Finally, returning to the chart is Netflix's Arrested Development, which is ranked #4 on the digital originals chart, on the back of its 5th season renewal announcement.
Parrot Analytics is a data science company that empowers media companies, brands and agencies to understand global audience demand for television content. Wielding the world's largest audience behavior data sets, the company has developed the world's only global cross-platform, country-specific audience demand measurement system.
Parrot Analytics captures an unprecedented spectrum of actual audience behavior including video streaming consumption, social media, blogging platforms, file-sharing and peer-to-peer consumption spanning 249 countries. This enables media companies, for the very first time, to understand audience demand for content across all content distribution platforms in all markets around the world.
For more insights visit www.parrotanalytics.com