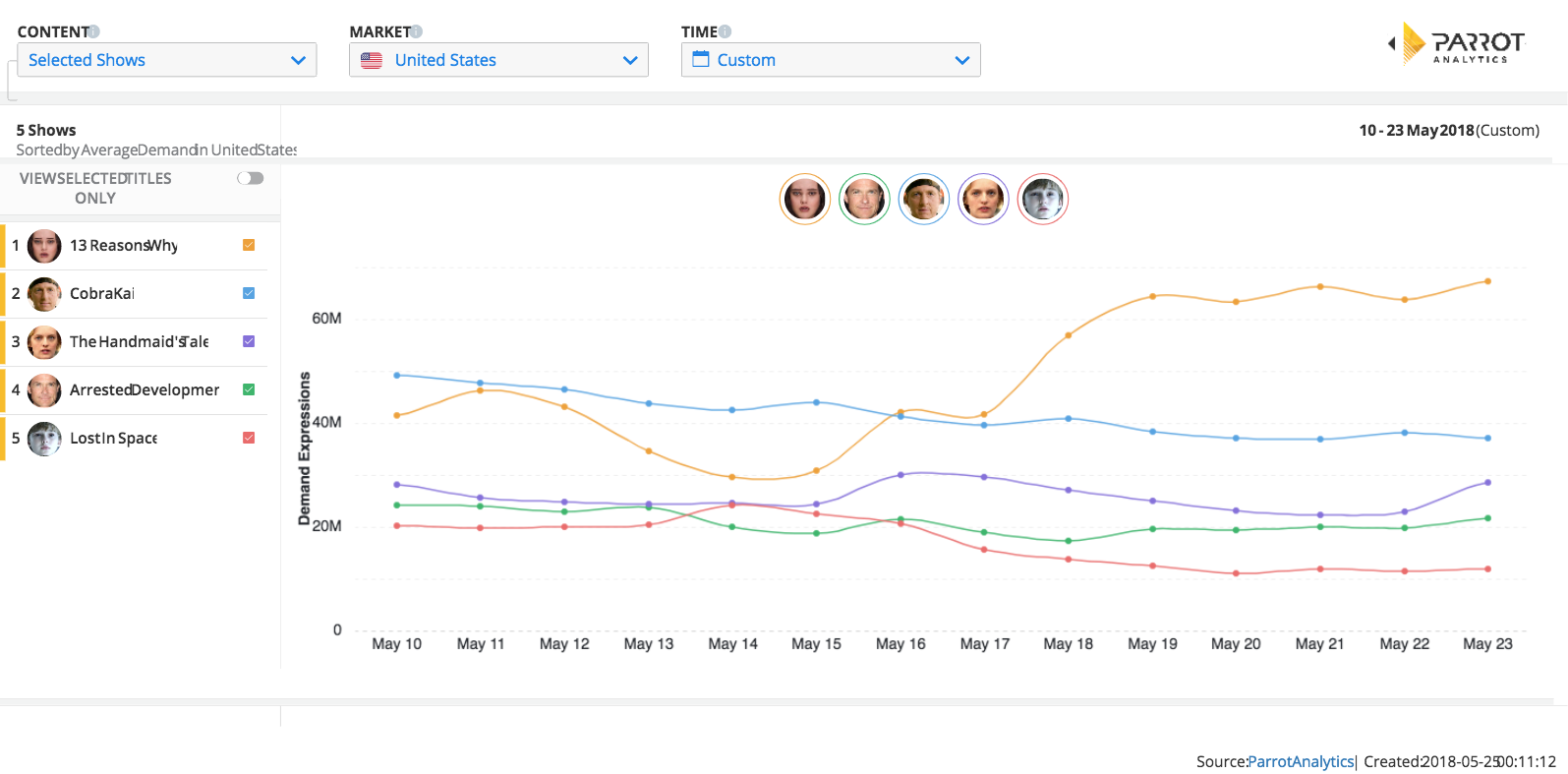 The following editorial has been published in the latest edition of Variety magazine this week Monday 21st May, 2018, by Andrew Wallenstein, Co-Editor-in-Chief, Variety:
"As we head into the annual upfront presentations in Manhattan this week, advertisers will be taking stock of what the hottest properties on TV are. So it's strange to note that during a week in which the spotlight falls on those giant dinosaurs still roaming the media landscape – the broadcast networks – a very different kind of TV channel has stolen some of their thunder: YouTube Red." (As Variety went to press, the service was renamed; it is now called YouTube Premium – ed.)….While those broadcasters will be out touting their programming, the Google-owned subscription streaming service has what looks like its first breakout show in Cobra Kai, a series launched earlier this month that continues the storyline from the 'Karate Kid' franchise with its original stars…"
Here are the full insights from Parrot Analytics.
For 10 May 2018 – 23 May, 2018 – Top five Digital Original Series in the United States and Average Demand Expressions®:
13 Reasons Why, Netflix: 49,400,066
Cobra Kai, YouTube Premium: 41,630,551
The Handmaid's Tale, Hulu: 25,725,354
Arrested Development, Netflix: 20,847,566
Lost in Space, Netflix: 16,839,273
Insights from Parrot Analytics:
Season two of Netflix's 13 Reasons Whyis the most in-demand digital series in the United States, with slightly more demand than Cobra Kai from YouTube Premium. Also the second season of The Handmaid's Tale from Hulu airing weekly, week-on-week demand has been steady.
Cobra Kai came in at No. 2 for the week that ended May 23, according to our latest television series popularity data in the domestic U.S. market. YouTube Premium's 10-episode first season of Cobra Kai debuted on May 2 on the paid service. On May 10, YouTube revealed that it was renewing the show for a second season. The comedy-drama series relies heavily on nostalgia, blending in new characters with William Zabka and Ralph Macchio. The series picks up 30 years after the events of the original 1984 film. Like the first, the second season will contain 10, 30-minute episodes, and will debut on YouTube Premium sometime in 2019. According to YouTube, the first episode of Cobra Kai had 11 million views, three days after it premiered – and by May 25, it had racked up over 35 million views.
Parrot Analytics is a data science company that empowers media companies, brands and agencies to understand global audience demand for television content. Wielding the world's largest audience behavior data sets, the company has developed the world's only global cross-platform, country-specific audience demand measurement system.
Parrot Analytics captures an unprecedented spectrum of actual audience behavior including video streaming consumption, social media, blogging platforms, file-sharing and peer-to-peer consumption spanning 249 countries. This enables media companies, for the very first time, to understand audience demand for content across all content distribution platforms in all markets around the world.
For more insights visit www.parrotanalytics.com