In the constant battle for consumer attention, brands look to make a connection with consumers as quickly as possible during any form of advertising. Many brands, like KFC, Arby's, and AT&T, have turned to humor to create this connection. Read on to see which brands connected most with their audiences through TV advertising in January.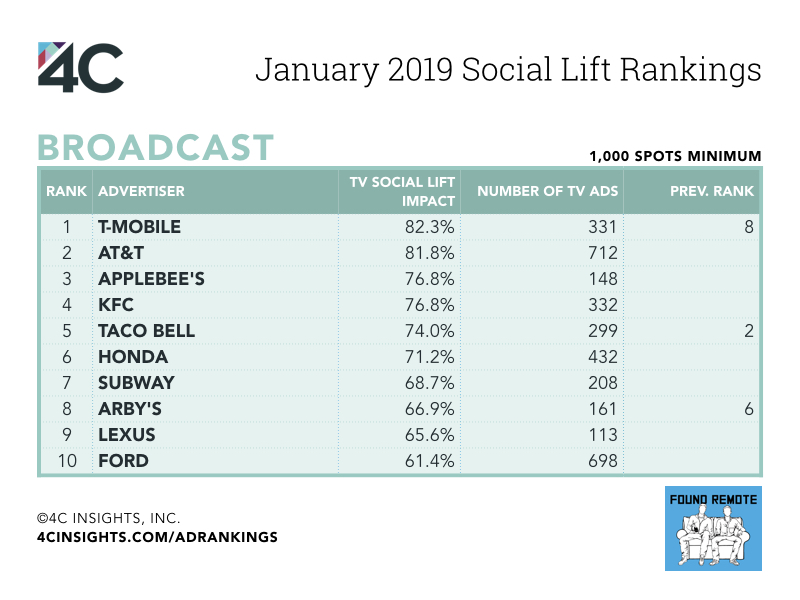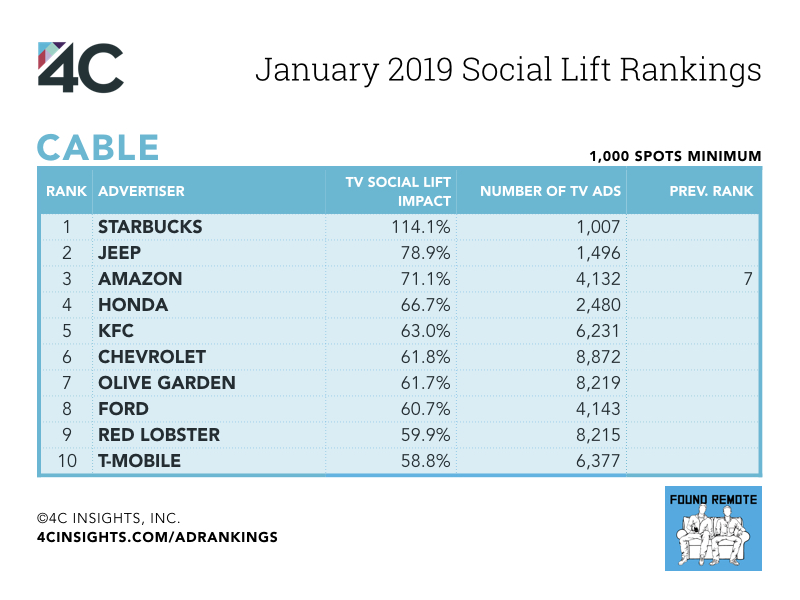 T-Mobile took the top spot for broadcast, thanks in part to ads featuring a family vacation.
With its "Just OK is not OK" ads, AT&T grabbed audience attention and the second spot for broadcast advertisers in January.
Starbucks, which ran ads for its Keurig K Cups, took the top spot for cable advertisers. The company saw an overall increase in engagement in January, following former CEO Howard Schultz's public interest in a 2020 Presidential bid.
Jeep connected with viewers with ads for the 2019 Wrangler, jumping to 2nd place for cable advertisers.
To assess the TV ads generating the greatest consumer response on social media, 4C fuses data from Teletrax, its global TV monitoring network covering more than 1,300 U.S. Channels in all 210 DMAs, and its proprietary social affinity database with engagements from 2+ billion social media users across Facebook and Twitter.
By comparing each brand's social media engagements in the two-minute period after the start of a TV ad to the brand's average social media engagement rate, 4C calculates the TV Social Lift Impact. Ultimately this is a measure of how much more likely a consumer is to engage with with the brand on social media after seeing its TV ad.
For example, T-Mobile's 82.3% TV Social Lift Impact means DirecTV's broadcast TV ads increased T-Mobile's social engagements by 82.3% in the two minutes following the start of an ad.