In New York at their Digital Content Newfront, Disney unveiled their new Digital Network, which includes a portfolio of editorial voices, an in-house branded content service called Disney Co/Op, along with a fresh slate of programming. This new network marks an official end to the Maker Studios brand name, the pioneering multi-channel network (MCN), which Disney purchased three years ago for $500 million.
"An astonishing 6,000 pieces of content are created by this team every month," said Jimmy Pitaro, Chairman of Disney Consumer Products and Interactive Media. "For the first time, we're aggregating our digital channels, content, and creators under one offering for our partners and our advertisers. The Disney Digital Network is where Disney storytelling and the digital zeitgeist collide, to create the web's most compelling branded entertainment."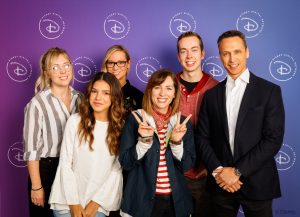 A major digital highlight from the event were Disney's platform partnerships announced with Twitter, YouTube, Facebook, and Instagram. Part of Disney Co/Op, these social partnerships are intended to help advertising partners reach vast audiences across all media platforms. Using Twitter Amplify and Facebook Anthology, Disney is definitely betting big on mobile.
Disney also announced some exciting new programming, many of which will exist exclusively through Facebook Anthology. Programs like "Science and Star Wars", presented by IBM, and "Club Mickey Mouse" are utilizing Facebook's powerful advertising insights.
"This network is our response to how our advertising partners have been telling us they want to engage audiences: with high-quality content, mobile formats including micro-content and short-form video, social media influencers, and diverse distribution options across all major platforms," said Rita Ferro, President of Sales, Disney-ABC Television Group. "We can now connect these opportunities with first- party data, proprietary insights, quality of service, and brand safety."