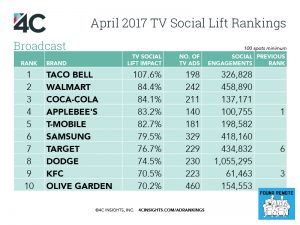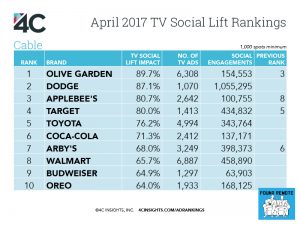 Each month, Found Remote partners with 4C to publish the rankings of the brands that saw the most social engagement lift from their TV commercials. In April, Taco Bell was in the lead for broadcast and Olive Garden topped the cable rankings.
More insights from April:
Taco Bell achieved a 107% increase in social engagements due to its April broadcast TV commercials. Among the drivers of the increase in social engagement increase were people responding to Taco Bell's new commercials featuring a burrito and taco escaping the "friend zone" that aired during the NBA playoffs.
Olive Garden unveiled giant stuffed pastas in April. Ads promoting the new dishes landed Olive Garden achieve atop the cable rankings and 10th in the broadcast rankings.

Walmart ads promoting a partnership with Feeding America

helped the retailer land 2nd in the broadcast rankings and 8th in the cable rankings.

Dodge benefited from its The Fate of the Furious sponsorship with ads featuring characters boosting the automakers social engagement in April.

Restaurants dominated the broadcast rankings achieving an average lift in social engagement of 83%.

Restaurants and food and beverage were the categories most successful at driving social engagement from cable spots. Average social engagement lift from cable spots was 79% for restaurants and 67% for food and beverage.
Methodology from 4C:
To assess the TV ads generating the greatest consumer response on social media, 4C fuses data from Teletrax, its global TV monitoring network covering more than 1,300 U.S. Channels in all 210 DMAs, and its proprietary social affinity database with engagements from 1.5+ billion social media users across Facebook and Twitter.
By comparing each brand's social media engagements in the two-minute period after the start of a TV ad to the brand's average social media engagement rate, 4C calculates the TV Social Lift Impact. Ultimately this is a measure of how much more likely a consumer is to engage with with the brand on social media after seeing its TV ad.
For example, Taco Bell's 107.6% TV Social Lift Impact means Taco Bell's broadcast TV ads increased Taco Bell's social engagements by 107.6% in the two minutes following the start of an ad.
About 4C
4C is a global leader in data science and media technology with solutions for multi-screen marketing. Brands, agencies and media owners rely on the 4C Insights Affinity Graph™ to identify their most valuable audiences and improve effectiveness across channels. With nearly $1 billion in annualized media spend running through its software-as-a-service platform, 4C offers activation on Facebook, Twitter, LinkedIn, Pinterest, Instagram and Snapchat as well as TV Synced Ads across display, search, social and video. The company also provides paid, earned and owned media analytics leveraging its Teletrax™ television monitoring network which detects over 400 million TV asset airings on an annual basis. Founded in 2011 and based in Chicago, 4C has staff in 15 worldwide locations across the United States, United Kingdom, the Netherlands, France, Hong Kong, India and Singapore. Visit www.4Cinsights.com for more information.