The summer fast food wave continued into August, with Taco Bell, KFC, and Burger King each claiming a spot in the top ten for both broadcast and cable advertisers. Read on for more on the ads that resonated with audiences most in August.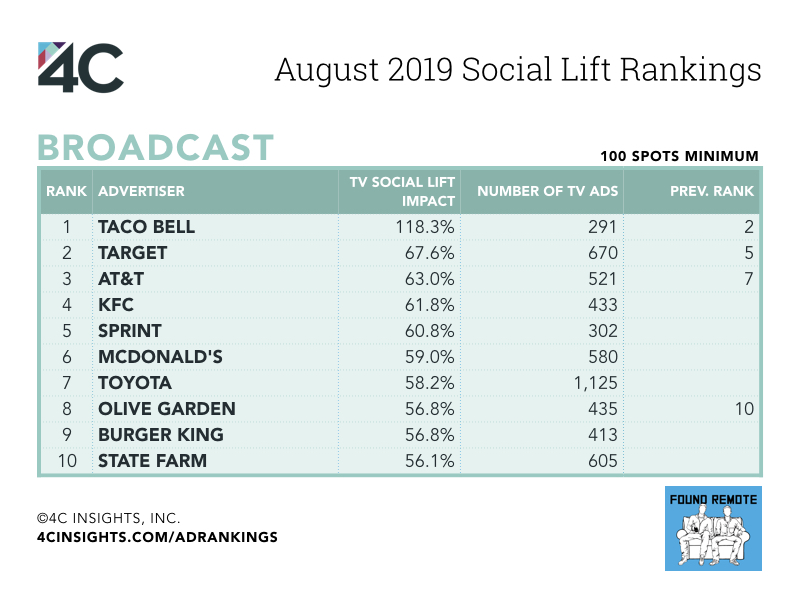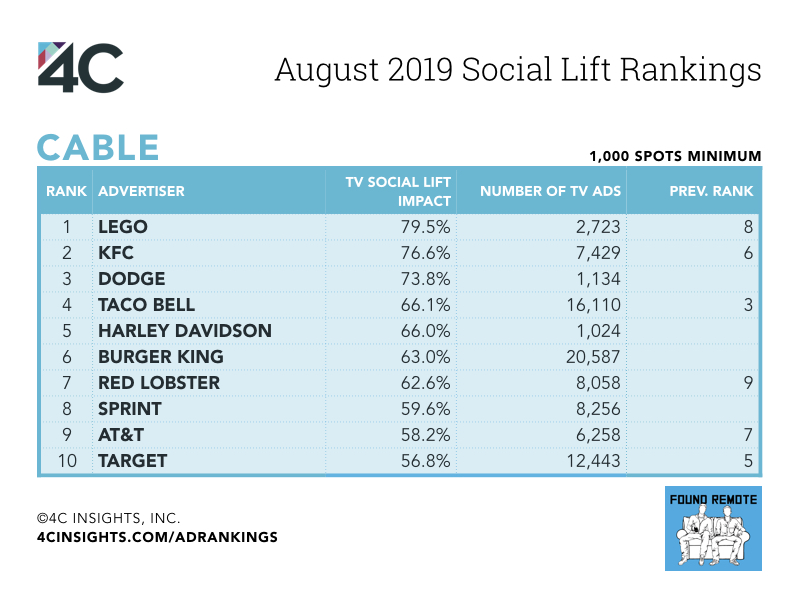 Taco Bell took the top spot for broadcast, and landed at number four for cable, thanks to ads for the Triple Double Crunchwrap.
With ads for new Harry Potter sets, LEGO came in at number two for broadcast advertisers in August.
As back-to-school season heated up, Target saw a lift in social media engagement following TV ads, landing in the top ten across broadcast and cable.
KFC took a spot in the top five for broadcast and cable with ads for its new Mac & Cheese Bowl.
To assess the TV ads generating the greatest consumer response on social media, 4C fuses data from Teletrax, a global TV monitoring network covering more than 1,300 U.S. Channels in all 210 DMAs, and its proprietary social affinity database with engagements from 2+ billion social media users across Facebook and Twitter.
By comparing each brand's social media engagements in the two-minute period after the start of a TV ad to the brand's average social media engagement rate, 4C calculates the TV Social Lift Impact. Ultimately this is a measure of how much more likely a consumer is to engage with with the brand on social media after seeing its TV ad.
For example, Taco Bell's 118.3% TV Social Lift Impact means Taco Bell's broadcast TV ads increased Taco Bell's social engagements by 118.3% in the two minutes following the start of an ad.