Humor remains a common theme among September's conversation-starting ads. Each month, humorous ads land in the broadcast and cable rankings, and this month was no different, with the top advertiser for each leaning into comedy to spark conversation. Read on to see which advertisers saw the greatest lift in social media engagement following TV ads in September.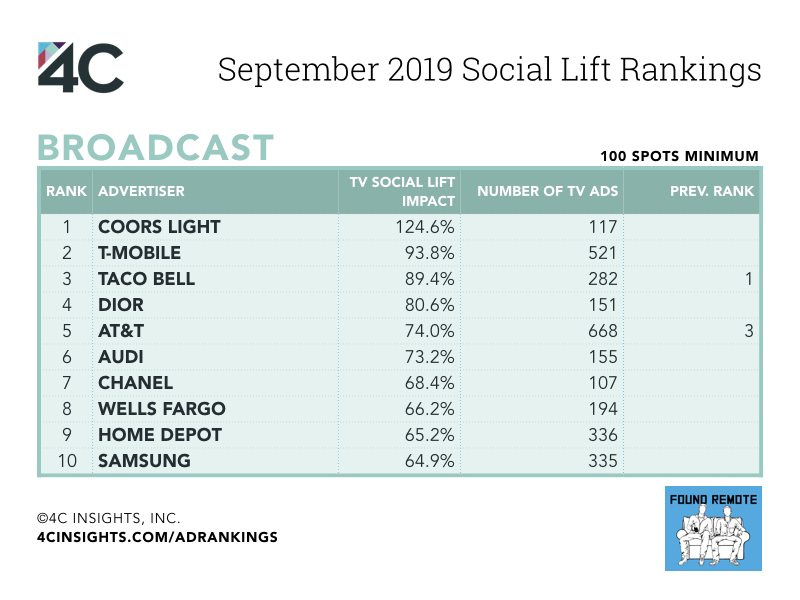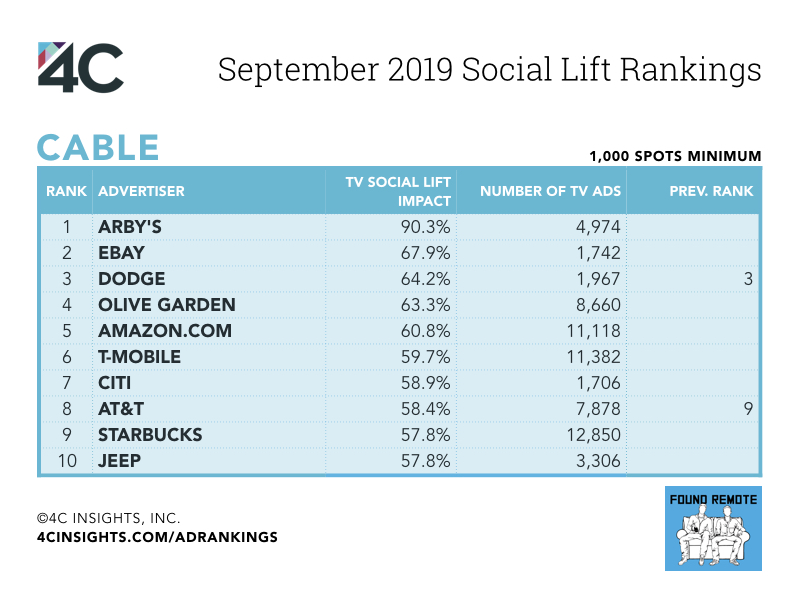 Coors Light captured audience attention with its "Made to Chill" campaign featuring humorous takes on people relaxing with a beer.
T-Mobile grabbed a top spot in the broadcast and cable rankings in September, thanks in part to its "Netflix on Us" promotion.
With commercials featuring its new Bourbon BBQ Brisket sandwich, Arby's jumped to the top spot for cable advertisers.
eBay took the number two spot for cable advertisers with its "When You're Over Overpaying" campaign.
To assess the TV ads generating the greatest consumer response on social media, 4C fuses data from Teletrax, a global TV monitoring network covering more than 1,300 U.S. Channels in all 210 DMAs, and its proprietary social affinity database with engagements from 2+ billion social media users across Facebook and Twitter.
By comparing each brand's social media engagements in the two-minute period after the start of a TV ad to the brand's average social media engagement rate, 4C calculates the TV Social Lift Impact. Ultimately this is a measure of how much more likely a consumer is to engage with with the brand on social media after seeing its TV ad.
For example, Coors Light's 124.6% TV Social Lift Impact means Coors Light's broadcast TV ads increased Coors Light's social engagements by 124.6% in the two minutes following the start of an ad.