Globally, between them, Amazon and Netflix added 1,092 hours of original productions and exclusive acquisitions to their catalogues during 2016, but the SVoD majors have shifted heavily towards own-production and away from acquisition during the last 18 months. Original production hours added outnumbered new exclusive acquisition additions by 2.2 to 1 during 2016.
Strategically, this shouldn't be a surprise. For global players, the rights flexibility of own-production and the limited number of producers or distributors willing to license on a truly global basis, means nominally more costly own-production becomes a no-brainer.
But the trend has implications beyond mere rights access. With Amazon Prime Video's very recent global launch and Netflix's ever-growing content budget (soon set to pass $6bn a year) the content industry looks set for a SVoD bonanza. Just look at the relative volume of Netflix vs. Amazon original content, then consider the firepower that Amazon brings to the table and ask yourself how long will this disparity persist?
Genre-wise, a number of key areas have seen the benefit of the drive for originals. During 2016, the most new original hours were added as drama at 333 new hours. Comedy was the next biggest area of focus for the pair. Between them, Amazon and Netflix added 249 new original/exclusive hours of funny stuff.  Kids content was also a major focus with 218 new original hours added.
While other genre-areas also benefitted, there are notable sectors that have yet to see major investment but which our research suggests have high demand. Key among these are lifestyle and music content, and while there have been small steps towards investments in these areas by the SVoD players, much more must surely be to come.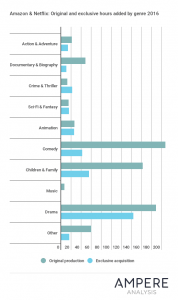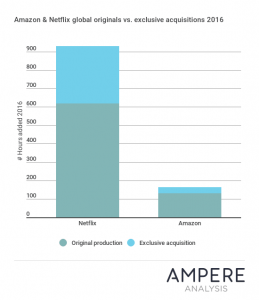 Guy Bisson is a Research Director at Ampere Analysis.