With the UK sports industry all-a-flutter over rumors that Amazon may bid for rights in the upcoming Premier League soccer auction (pitching itself against powerful pay TV incumbent Sky and more recent, but equally well-financed, BT) the potential for sports to become the next global rights battleground has never been higher. Can the globalisation that is already well underway in TV drama, really happen in sports? In a global content market that has traditionally conducted business geographically, sports is the most geographic of all content rights.
Much of the premium value assigned to key sports hinges on the value of exclusivity in the sport's home market, with a turbo boost given by international rights sales. Yet some sports do have true global appeal. With the possible exception of the US, it's fair to say the world loves soccer (that's football with a round ball for any US readers). Subscription Video-on-Demand platforms are the first truly global pay TV players. Their business model hinges on full control of rights in every market in which they operate. Own production allows that in drama. So if SVoD players do enter the sports arena, where should they focus for maximum global appeal?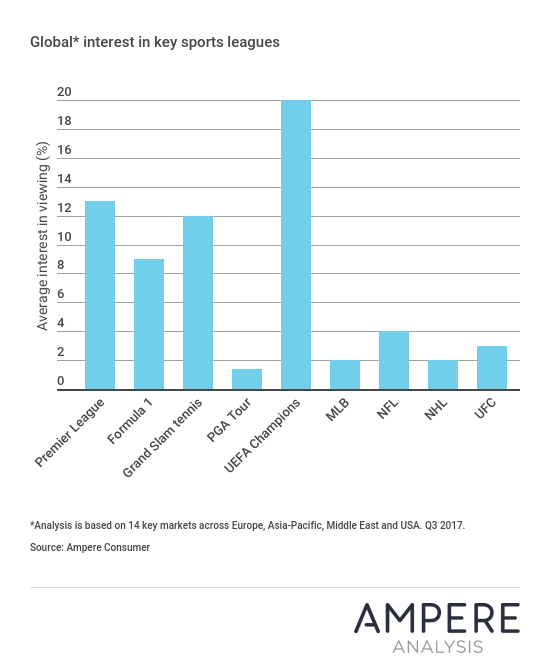 Ampere looked at sports interest and willingness to pay of over 600 key leagues and tournaments across 14 markets in Europe, the Middle East, Asia-Pacific and the US to assess how 'global' interest really is. Selecting a few of the most high value leagues is telling. The league with greatest global appeal is the UEFA Champions League soccer tournament, followed by English Premier League and then Grand Slam tennis.
But when it comes to paying to watch, consumers show a greater willingness to pay for the Premier League globally than Champions League, while Grand Slam tennis has one of the lowest willingness to pay ratios of all the sports analysed among the high value leagues. So while tennis may draw the crowds, the cash may not follow. On this basis, taking some rights to the Premier League could be interesting to a global player. But platforms like Amazon may get more bang for their buck from some of the niche sports; Ultimate Fight Club mixed martial arts, for example, has only a quarter the interest appeal of Premier League soccer, but all of those interested are willing to pay to watch it. Food (or should that be beer and hot dogs?) for thought.