With the global content industry heading to Cannes next week for the annual autumn buying bonanza that is MIPCOM, one question that will be at the forefront of many attendees' minds is: what does the future hold for high budget scripted drama? Drama, and the potential drama bubble, has been one of the hot topics of recent years.
Netflix may well have told you that Orange is the New Black, but the reality, at least when it comes to Subscription Video on Demand (SVoD) content investment, is that drama is the new movie. The knock-on effect on the wider TV industry is already being felt in growing budgets, growing co-production opportunities and the increasingly global focus of drama developers and creators. And it's not just on SVoD. Any pay TV platform worth its salt…at least those with a multi-country footprint, now has an original drama production strategy.
TV drama is the mainstay of SVoD content in a way that, for high value TV channels at least, movies would have been a few short years ago. Globally, 40% of Netflix's content is TV drama. Of all TV season content on Netflix, drama accounts for more than half. By contrast, over the past two years, the volume of movie or feature length content has fallen from 34% to 28% of hours.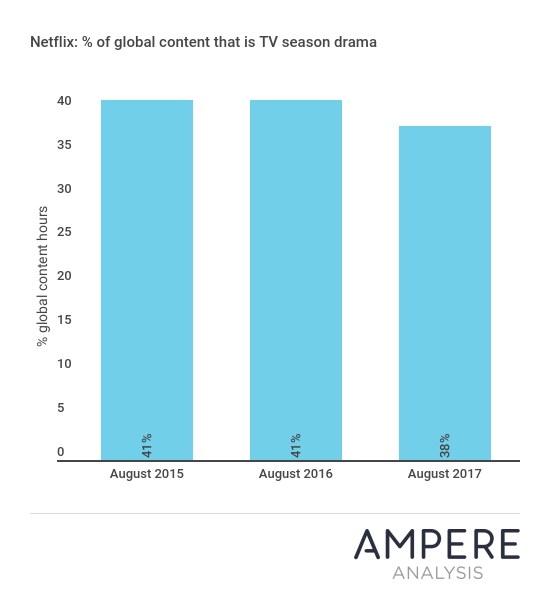 Perhaps even more telling, is the focus of Netflix's own—increasingly substantial—original production slate. Just 10% of the volume of global originals is movie or feature length; by contrast, 90% is TV seasons, the majority drama.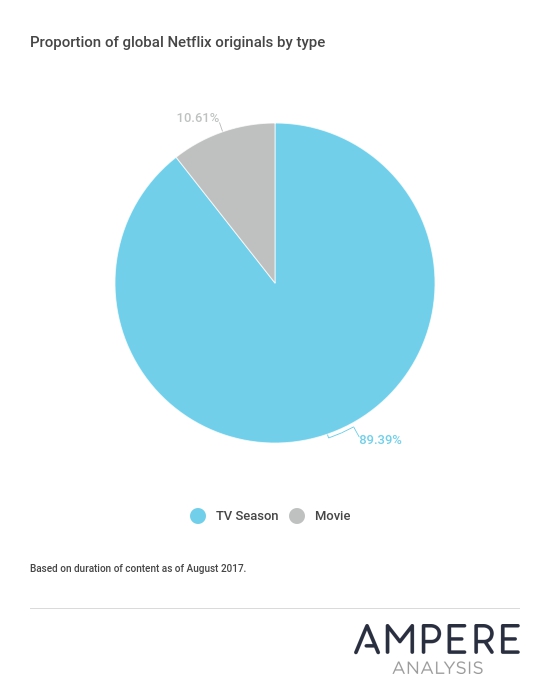 Drama premieres may not be new to the MIPCOM programme market, but the volume of invitations for screenings at this year's event is. And the new types of media groups hosting them…including telecoms operators like Spain's Telefónica is a new and growing phenomenon. Liberty Global's new content division Platform One—while yet to begin production—will also be at MIPCOM in force.
So what other key drama and content trends can we expect at MIPCOM this year? Non-English language global drama looks set to continue as a key trend, with new geographic centres of creativity emerging. Scandinavia and Germany are arguably already there, but Turkey and Central Europe are regions to watch. Russia, may be another region to emerge as a global creator, although regulatory difficulties could scupper investments by international SVoD players.
The constant search for the next big content area will also continue apace. International dramas have focused heavily on crime and political intrigue—a subject matter that seems to travel well. But if Nordic Noir and its ilk has had its day, buyers will be asking where the next big international drama hit will come from? And it's not only about drama, a resurgence of interest in non-scripted entertainment as a growth area for SVoD licensing is also emerging from the data, as is a drive for more kids' content.
Technology trends like Virtual Reality wax and wane, but demand for quality content is a constant. Whatever emerges from this year's MIPCOM market, continued talk of a content bubble will not be one of them.
Header image: La Peste, Movistar+