Sometimes, all a brand needs is a little nostalgia to help connect with its audience. As Disney continues its run of classic remakes and sequels with The Lion King and Toy Story 4, social media engagement with the brand landed it in the top 10 for broadcast and cable in June. Read on for more about how brands connected with audiences this month.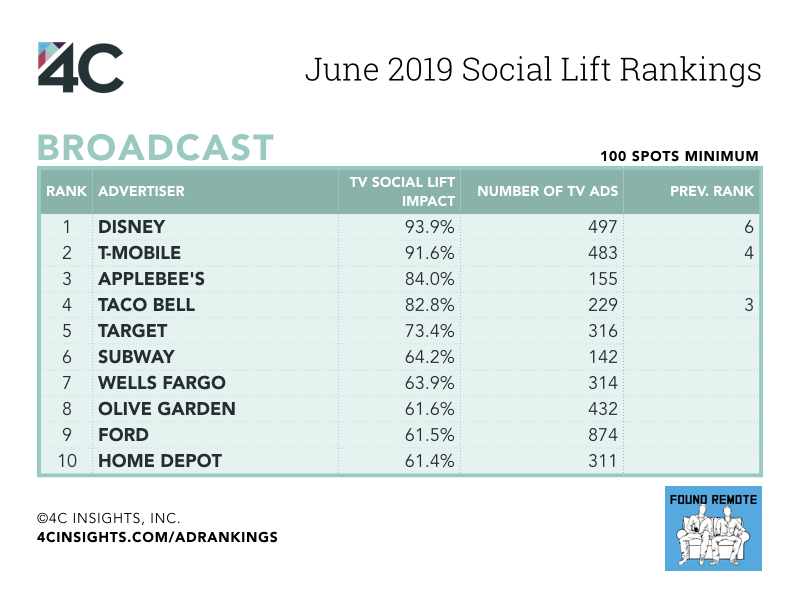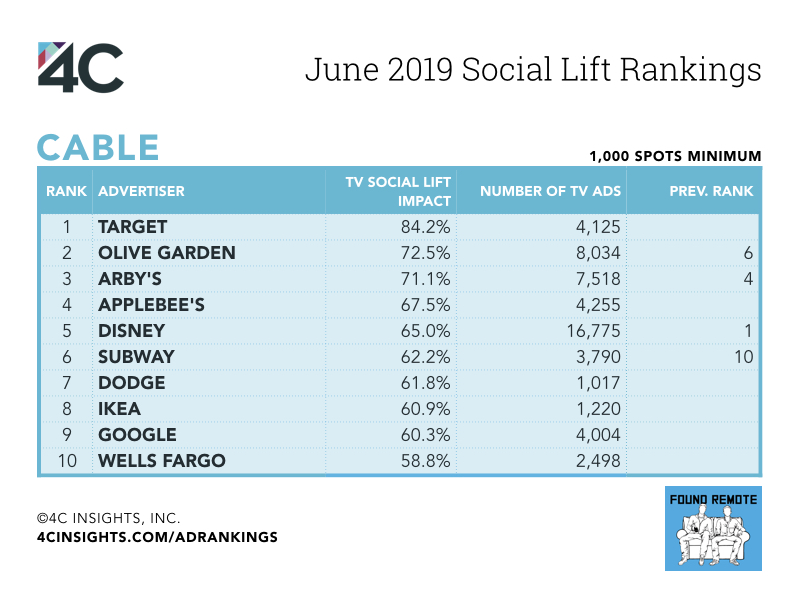 Disney saw the greatest lift in social media engagement for broadcast advertisers in June, thanks mainly to its trailers for The Lion King.
T-Mobile's ads highlighting deals on family plans helped the telco brand grab the number 2 spot for broadcast.
Target's ads featuring summer deals helped the brand connect with audiences, launching the brand to the top spot for cable advertisers.
To assess the TV ads generating the greatest consumer response on social media, 4C fuses data from Teletrax, a global TV monitoring network covering more than 1,300 U.S. Channels in all 210 DMAs, and its proprietary social affinity database with engagements from 2+ billion social media users across Facebook and Twitter.
By comparing each brand's social media engagements in the two-minute period after the start of a TV ad to the brand's average social media engagement rate, 4C calculates the TV Social Lift Impact. Ultimately this is a measure of how much more likely a consumer is to engage with with the brand on social media after seeing its TV ad.
For example, Disney's 93.9% TV Social Lift Impact means Disney's broadcast TV ads increased Disney's social engagements by 93.9% in the two minutes following the start of an ad.