Fans of different types of content show very distinct viewing habits. It turns out that lovers of reality and lifestyle content are the most 'next gen' in their viewing habits. Whether the content drives the viewing or the viewing preference drives the way in which the content is delivered, is a moot point. But it probably comes as no surprise that sports fans are the most 'traditional' in the way they watch TV, favouring scheduled TV channels and a little bit of DVR. Their favourite content is generally delivered live.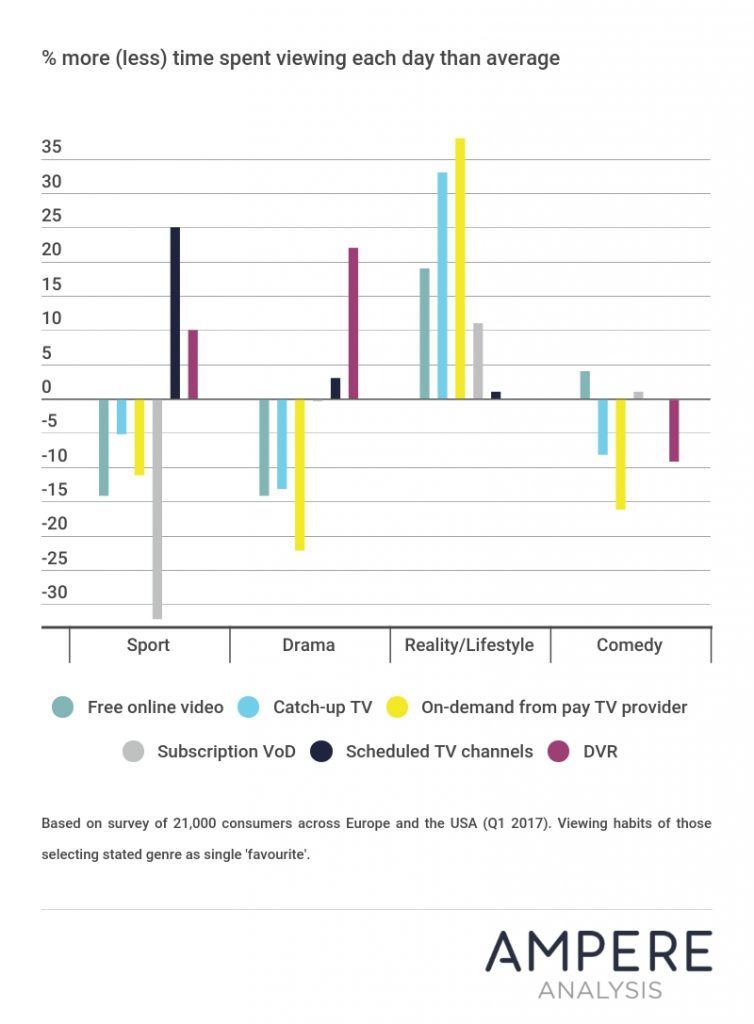 Drama fans are the original 'time-shifters' showing heavy DVR usage, doubtless as they binge on recorded shows but, interestingly, they show bang-on average engagement with SVoD, suggesting they have yet to migrate heavily to SVoD as a source for their favourite drama content. Comedy fans have a slight skew towards online viewing, but watch less catch-up and on-demand—either from a pay TV provider or on a DVR.
But it is the reality TV fan who shows the strongest skew, watching far more free online video, catch-up TV, on-demand and SVoD than average. In part, it's because fans of this type of content simply watch more TV…21 minutes a day more than average. Fans of reality and lifestyle content are 50% more likely to be female, much more likely than average to be under 35 and have a heavy skew for living with a partner and young child. But it's not the time overall, but the breadth of viewing behaviours that is most interesting. For the future of TV viewing, it seems we need look no further?