Netflix has been undergoing a process 'premification' over the past two years; refining its library and flooding its catalogue with original productions, while clearing out older content. Positioning itself as a premium channel play is fundamental to its future growth strategy. As the US pay TV industry reels from Q2 2017, its second worst quarter on record in terms of cord-cutting, what does the increasingly premium face of Netflix mean for the not just the pay TV business, but the 'traditional' premium channel market?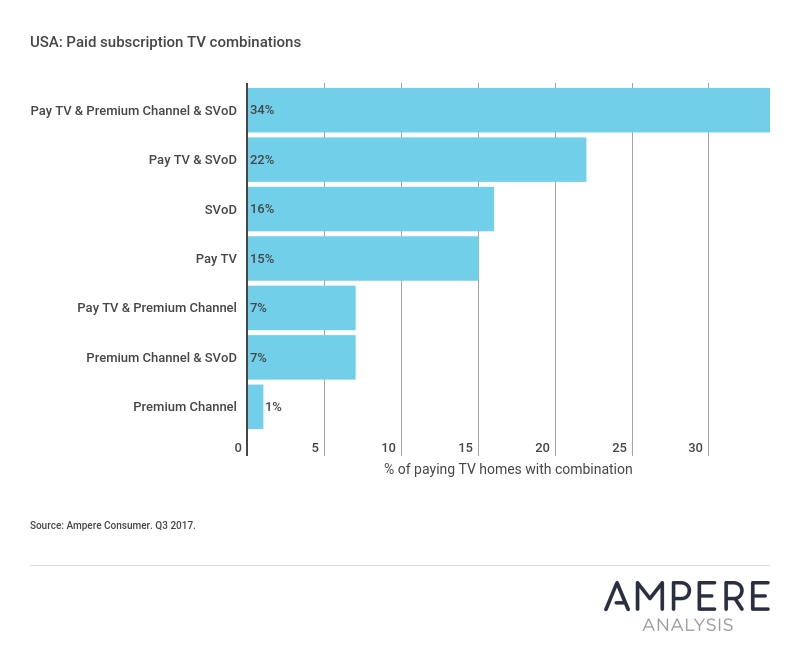 It's widely accepted that SVoD is frequently used as an add-on to pay TV rather than a substitute, although in the US, ferocious cord-cutting means SVoD is definitely acting as a substitute in many homes. Taking pay TV, SVoD and premium channels as the basis of a possible three-way service combination tells an interesting story. SVoD in combination with traditional pay TV has long been a larger segment of the US paid market than pay TV alone, but looking at a paid threesome, including premium channels, shows that the single biggest segment in the USA pay market today is pay TV, with a premium channel and an SVoD service.
On the face of it, that's great news for both pay TV platforms and channels. US pay TV homes are stacking SVoD not just on top of pay TV, but on top of premium linear channels from those pay TV providers. The not-so-good news, though, is that the next biggest segment among paying TV homes in the USA is pay TV with SVoD but no linear premium channel. This segment is far bigger than pay TV with premium channel but no SVoD. That may not be terrible news either. Let's not forget that more than a third of paying homes have both premium channel and SVoD, meaning they love content and they want more and more of it. But the potential sub-story is that SVoD is starting to encroach on the role of the premium channel in the pay TV mix. It's one to watch.