In celebration of the 60th anniversary of the Treaties of Rome, ARTE launches interactive experience that allows users to take a trip above Europe
Am #Europatag feiern wir #Europa aus einer ganz besonderen Perspektive: #EuropaVonOben auf https://t.co/oG2He0ecwy pic.twitter.com/9CthPjL63L

— ARTE (@ARTEde) May 9, 2017
2017 marks the 60th anniversary of the Treaties of Rome, the agreement that formed the cornerstone for the European Union as we know it today. On that occasion, Franco-German channel ARTE launched 'Europe from Above', a digital experience that allows users to fly over the continent's most beautiful locations by looking at corresponding video footage. Users can start their journey by visiting the experience's website, where they can access a map that features all destinations in form of clickable hotspots. Users then have a few different options to individually plan their travel route. First, they can choose the duration of the 'flight' in the lower left corner. Next, they can choose their itinerary by clicking on one or two spots on the map.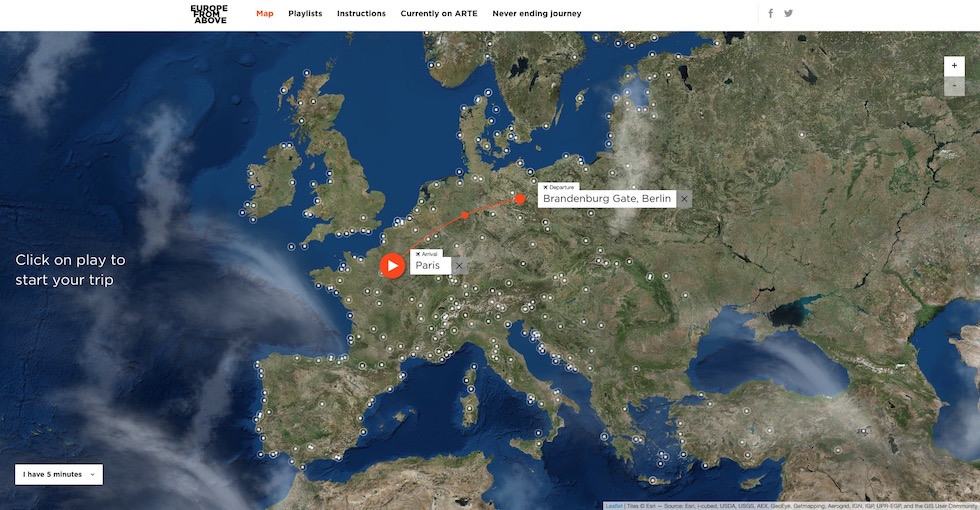 The trip starts afterwards and users are presented with video clips that are retrieved from more than 700 aerial video excerpts from ARTE documentaries. Moreover, users have the option to choose different music while being aboard 'ARTE Airlines'. Another section lets users access various playlists that allow them to choose from a number of thematic tours that showcase, for example, beautiful coastlines or castles and historic buildings.
Nicole Greiner is a research analyst at VAST MEDIA, a media research and consulting company based in Berlin that provides international television industry leaders with qualitative competitive market analysis of digital entertainment and content marketing. These posts are based on their platform VAST BUZZ which contains thousands of these cases studies.