Each year, two industries heat up as we near the winter holidays: retail and film. This year is no different, with advertisers like eBay and Macy's connecting with consumers looking to complete their holiday shopping, and Netflix making a splash with previews for its original programming. Read on for more insights into November's TV Social Lift Rankings.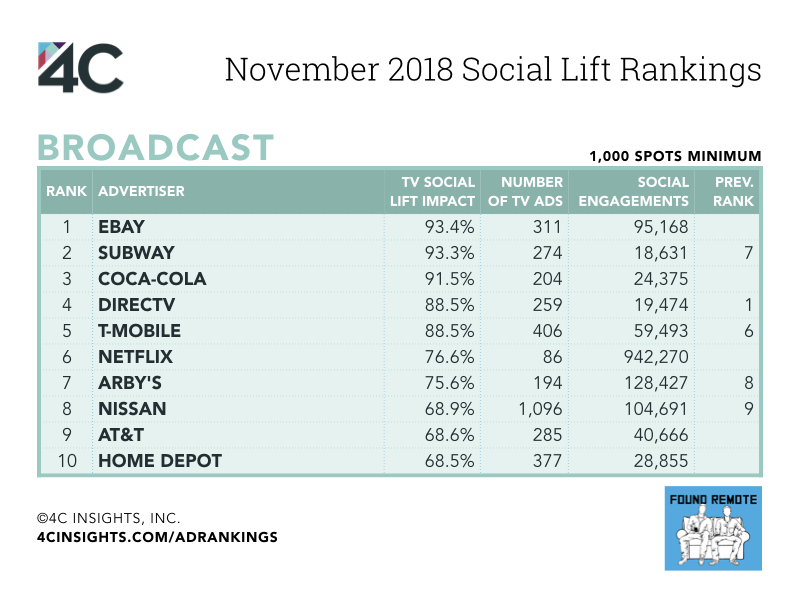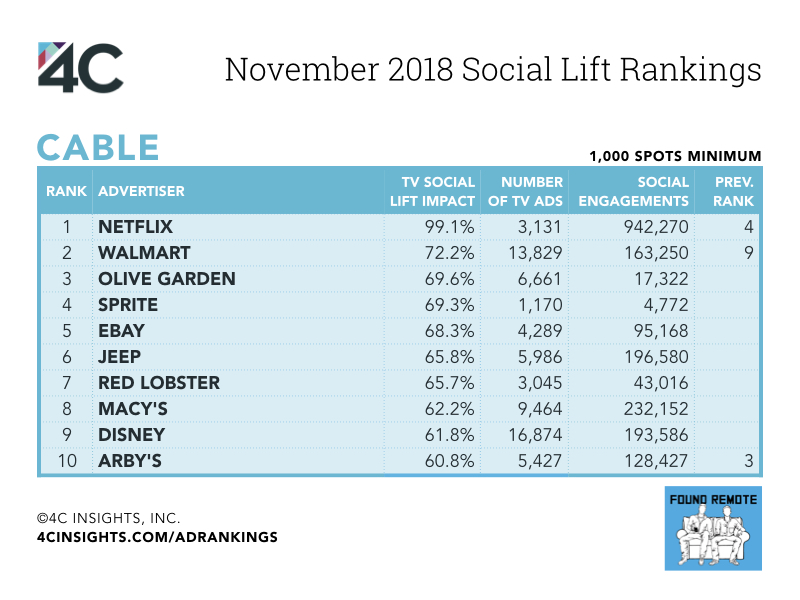 eBay took the top spot for broadcast advertisers in November, with ads featuring a child excitedly opening a Christmas present.
Subway's ads poking fun at McDonald's continued to resonate with viewers, helping the brand take the second broadcast spot.
Netflix took the top cable spot, and joined the top 10 broadcast advertisers, with ads for original programming like The Kominsky Method and Mowgli: Legend of the Jungle.
Ads featuring groups of people cooking holiday meals helped Walmart take the second spot for cable advertisers this month.
Methodology from 4C:
To assess the TV ads generating the greatest consumer response on social media, 4C fuses data from Teletrax, its global TV monitoring network covering more than 1,300 U.S. Channels in all 210 DMAs, and its proprietary social affinity database with engagements from 2+ billion social media users across Facebook and Twitter.
By comparing each brand's social media engagements in the two-minute period after the start of a TV ad to the brand's average social media engagement rate, 4C calculates the TV Social Lift Impact. Ultimately this is a measure of how much more likely a consumer is to engage with with the brand on social media after seeing its TV ad.
For example, eBay's 93.4% TV Social Lift Impact means eBay's broadcast TV ads increased eBay's social engagements by 93.4% in the two minutes following the start of an ad.