Donald Trump's presence in TV and social media is almost inescapable. Since Trump has been in office, he's been impersonated, and made fun of by countless late night TV shows and comedians.
The most evident example of Trump helping TV networks can be see with SNL. For NBC's famed comedy, Alec Baldwin's recurring Trump impersonation has brought the show its highest overnight rating since 2011. Comedy Central is continuing to capitalize on the Trump conversation, with its new weekly late night, "The President Show."
On Wednesday morning in New York, Comedy Central invited press for a sneak peak at The President Show and its stars; none other than Donald Trump and Mike Pence. Comedy Central's new late night talk show will feature Trump and Pence (played by Anthony Atamanuik and Peter Grosz, respectively) and will include desk segments, field pieces and guest interviews.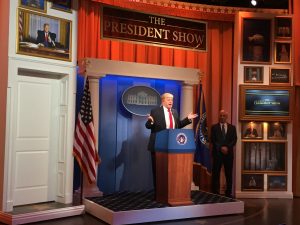 In a conversation out of character, Atamanuik touched on the constant Trump conversation on TV. He addressed how his version of Trump is different than the rest currently on air. "I like to say that I do an impression of his psyche and soul… That's the thing that's missing in how people portray Trump."
The President Show will air immediately after The Daily Show with Trevor Noah, which already pokes fun at Trump on a regular basis.  Additionally, to keep the Trump conversation alive, Comedy Central has taken to social. They created a satirical Twitter account, "Late Night Donald", with tweets like these:
The dishonest media says there are only 6 white guys hosting late night comedy shows. What they're not telling you is that theres a 7th: Me!

— Late Night Donald (@LateNightDonald) April 21, 2017
The President Show will premiere Thursday, April 27 at 11:30 p.m. ET/PT with Keith Olbermann as its first guest.