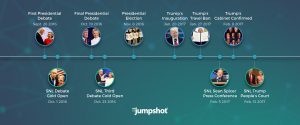 Season 42 of Saturday Night Live, which ran from Oct. 1, 2016 to May 20, 2017, brought the show a level of success it hasn't seen in many, many years. It scored several viral hits on YouTube and NBC.com and made SNL a centerpiece of the cultural conversation once again.
According to data from Jumpshot, the view count of SNL's top five most viral sketches on YouTube grew by 68 percent from season 41 to 42, and views of the top five most viral sketches and full episodes on NBC.com grew by a staggering 175 percent year-over-year (YoY). In fact, the only instance in which there was not a YoY viewership spike from season 41 to 42 was in Jan. on YouTube, which saw a 13 percent YoY downturn. Every other month of the SNL season saw swells in viral viewership in season 42.
The obvious point of interest behind this success is SNL's full-court press on lampooning the 2016 election and Donald Trump's presidency. This topic has been written about at length, and the numbers back it up (the top five most viral YouTube sketches for season 42 all centered on this popular topic, according to Jumpshot), but what's equally interesting about SNL's new viral dominance is the show's commitment to keeping things timely.
Saturday Night Live, while certainly known historically for timeless sketches about living in a van down by the river, has had more success recently with more timely sketches about particular cultural events. For example, in season 41, the most popular viral video on YouTube was the digital short "Star Wars Undercover Boss: Starkiller Base," which originally aired in the first SNL episode after the holidays on Jan. 17, 2016, just a few weeks after Star Wars: The Force Awakens hit theaters. Season 41 had similar success with the skit "The Day Beyonce Turned Black," which aired one week after Beyonce's much-talked-about halftime performance at Super Bowl 50.
For season 42, Saturday Night Live leaned heavily into this strategy of timeliness, and it paid off to great effect, as shown in the swell of viral success it enjoyed both on YouTube and on NBC.com. The top three viral sketches on YouTube for season 42—"Trump People's Court," "Sean Spicer Press Conference (Cold Open)," and "Sean Spicer Press Conference (Melissa McCarthy)," in that order—all aired within a few weeks of Trump's inauguration and during the controversial cabinet hearings in late Jan. and early Feb. Rounding out the top five most viral sketches on YouTube were two Cold Open sketches featuring the Donald Trump vs. Hillary Clinton debates, both of which aired in or around the Sept. 26 to Oct. 19, 2016 window during which the presidential debates were held.
Given the success of season 42's timely viral sketches, one has to think the writers will be keeping a close eye on current events heading into season 43 in the fall of 2017. Perhaps the 2018-midterm elections will provide some good source material, or maybe the Russia investigation will reach a fever pitch and Beck Bennett will be called upon to revive his role as Vladimir Putin. Many pundits in recent years had been questioning the staying power of SNL, but perhaps a pivot toward aggressively focusing on timely cultural events will prove those pundits wrong.
About Jumpshot:
Jumpshot is a marketing analytics platform that helps businesses understand their customer's entire online lives. From the key sources of traffic to a site, to the browsing, consumption, and buying behavior on a site, to where users go once they've left a site, its product set reveals that entire customer journey. Jumpshot analyzes the clickstream data of its 100-million customer panel, 40% of which is mobile, and spans 188 countries.