TV advertising tends to be a big investment for restaurants, especially during sports, and February was no exception. In a month that included high-profile sporting events like the Super Bowl and the end of the NCAA Basketball regular season, seven restaurants saw increases in social media engagement following their TV spots.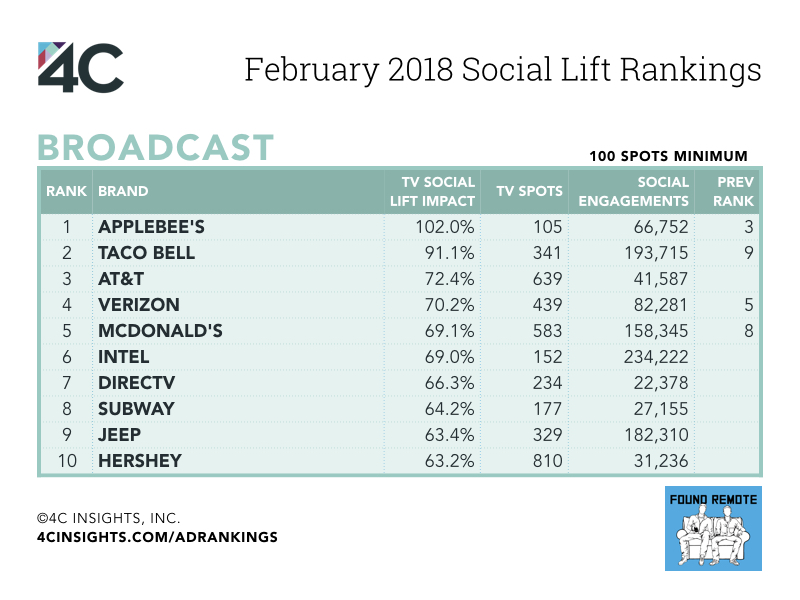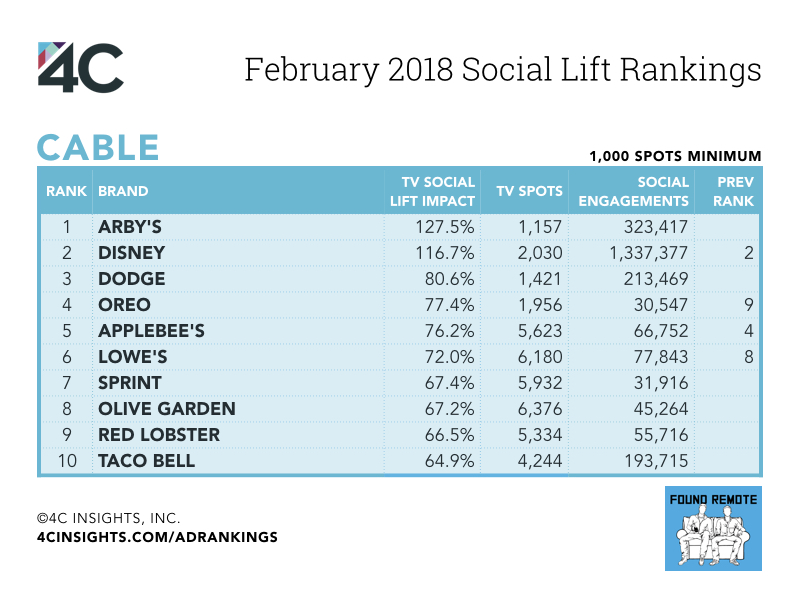 Applebee's introduced new low-calorie, low-priced meals in its February spots and jumped to the number one broadcast spot.
Taco Bell's ads for its new Nacho Fries caught audience attention, helping the fast food giant take the second spot for broadcast advertisers.
Arby's ads comparing the company's logo to a fish jumping out of water generated the most buzz and launched the brand to the top spot for cable advertisers.
Disney's trailers for Oscar-winning Coco continued to resonate with audiences, maintaining its spot as number two on the cable rankings.
Methodology from 4C:
To assess the TV ads generating the greatest consumer response on social media, 4C fuses data from Teletrax, its global TV monitoring network covering more than 1,300 U.S. Channels in all 210 DMAs, and its proprietary social affinity database with engagements from 2+ billion social media users across Facebook and Twitter.
By comparing each brand's social media engagements in the two-minute period after the start of a TV ad to the brand's average social media engagement rate, 4C calculates the TV Social Lift Impact. Ultimately this is a measure of how much more likely a consumer is to engage with with the brand on social media after seeing its TV ad.
For example, Applebee's 102% TV Social Lift Impact means Applebee's broadcast TV ads increased Applebee's social engagements by 102% in the two minutes following the start of an ad.