When TV advertising triggers a reaction – sad, happy, funny – in consumers, they tend to take to social media to share it. In September, Subway turned to humor to engage consumers, while Johnson & Johnson leaned into creating heartfelt moments. Read on to see how advertisers created audience engagement with TV advertising this month.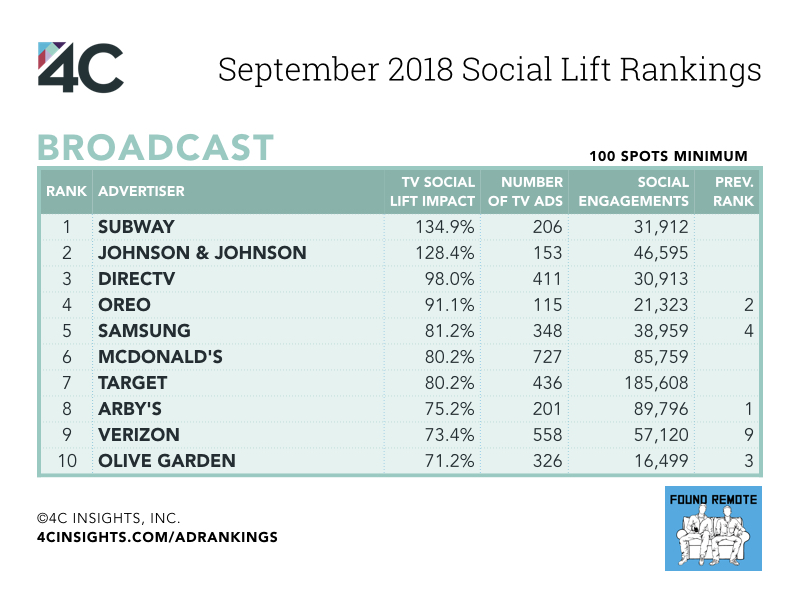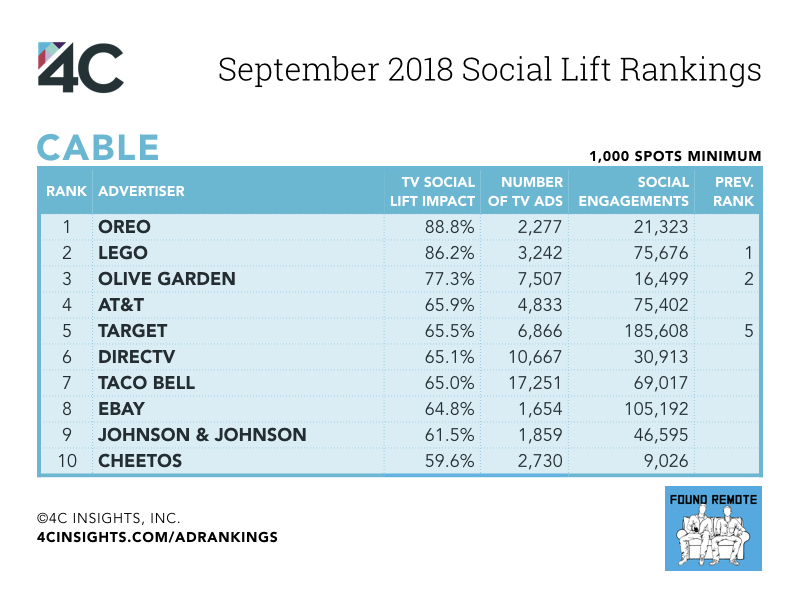 Subway's "Make it What You Want" commercials, poking fun at competition like McDonald's helped the brand take the top spot for broadcast advertising in September.
Johnson & Johnson took the number 2 spot for broadcast advertisers, with ads highlighting nurses during the AIDS epidemic.
Oreo's commercial featuring a father and daughter continued to resonate with audiences this month, keeping the brand in the top ten for broadcast and launching it to the top spot for cable.
LEGO grabbed audience attention with ads for its LEGO Friends and Marvel Super Heroes sets.
Methodology from 4C:
To assess the TV ads generating the greatest consumer response on social media, 4C fuses data from Teletrax, its global TV monitoring network covering more than 1,300 U.S. Channels in all 210 DMAs, and its proprietary social affinity database with engagements from 2+ billion social media users across Facebook and Twitter.
By comparing each brand's social media engagements in the two-minute period after the start of a TV ad to the brand's average social media engagement rate, 4C calculates the TV Social Lift Impact. Ultimately this is a measure of how much more likely a consumer is to engage with with the brand on social media after seeing its TV ad.
For example, Subway's 134.9% TV Social Lift Impact means Subway's broadcast TV ads increased Subway's social engagements by 134.9% in the two minutes following the start of an ad.