Sky Atlantic launched a competition that gives fans the chance to win a trip to Los Angeles to attend the season 7 world premiere or a spot in a Night's Watch training camp in London
Join the brotherhood today. Go to https://t.co/55OPLMfULr for a chance to win a Night's Watch training day. T&Cs: https://t.co/PhXRZvqCEq pic.twitter.com/j11eDO7tAB

— Sky Atlantic (@skyatlantic) May 2, 2017
As the highly-anticipated seventh season of Game of Thrones draws near, Sky Atlantic launched a competition for fans in the UK and Ireland. At the website JoinTheNightsWatch.com, fans can "join" the brotherhood from the series for the chance to win a trip to Los Angeles to attend the season 7 world premiere. Alternative prizes are spots for an exclusive Night's Watch training camp in London.
The competition for the main prize, the trip to LA, runs from May 1st through May 31st. To enter, fans need to connect with their Facebook account to accept the oath and join the Night's Watch. Then, they only have to click on the 'Enter Now' button. When they have entered the competition, fans can also complete an optional "assignment" and create a personalized recruitment banner to recruit their friends and make them watch "Game of Thrones" as well.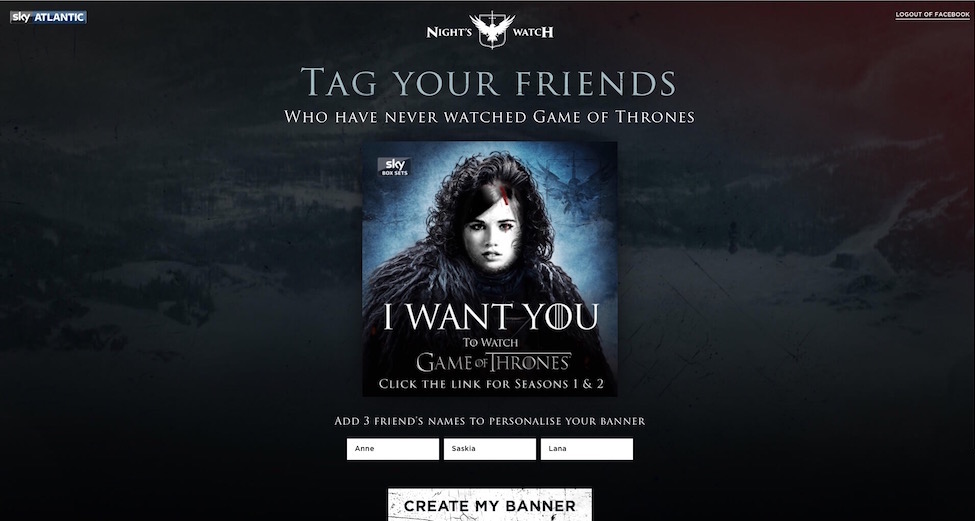 For the banner, users can upload a picture of themselves and enter the names of three friends who should start watching "Game of Thrones".
After having completed this first assignment, they can proceed to the second challenge, which is a Night's Watch training quiz. Ten questions challenge fans to prove their knowledge of the Night's Watch. For each question, they only have 20 seconds to answer. The quicker the answer, the higher the score.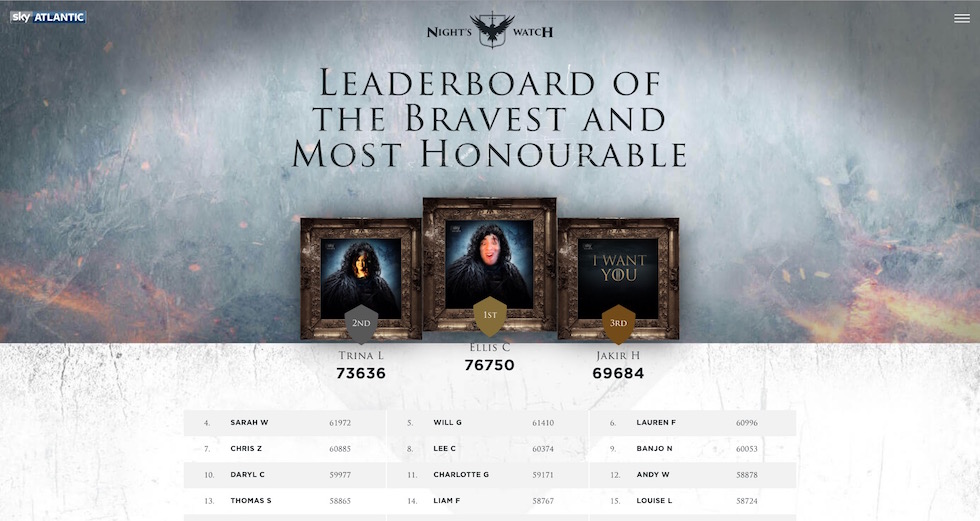 The fans with the highest scores are listed on a leaderboard. Users can retake the quiz as often as they like to improve their score and climb the leaderboard. Finally, the website enables users to enter the second competition as well, which gives 40 fans the chance to take part in a Night's Watch Training Day at the Tower of London on May 20. To enter, they have to sign up with their personal details. Winners are selected every day between May 4 and May 17.
Henner Herwig Jürgens is the Managing Director and Cofounder of VAST MEDIA, a media research and consulting company based in Berlin that provides international television industry leaders with qualitative competitive market analysis of digital entertainment and content marketing. These posts are based on their platform VAST BUZZ which contains thousands of these cases studies.