Parks Associates, a market intelligence and consulting company, yesterday released research showing that over  50% of U.S. broadband households stream content on TV screens.
"For years, the television has been the stronghold for the traditional TV industry," said Brett Sappington, Senior Director of Research, Parks Associates. "Today, more televisions are connected to the Internet than ever, either directly or through connected devices like game consoles or streaming media players, such as Roku or Apple TV. The fact that one-half of broadband households watch Internet video on a television shows that we are well past a tipping point. The market has fundamentally changed."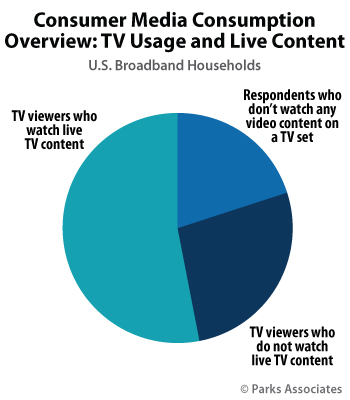 According to Parks Associates' research:
88% of computer-based viewing is from non-linear sources.
72% of non-pay-TV subscribers subscribe to an OTT video service, which is their primary source for content.
49% of broadband households in the U.S. subscribe to Netflix, by far the market leader.
"Broadcasters, cable networks, and pay-TV providers have noted a decline in viewership for live, linear TV channels and a corresponding increase in on-demand viewing," Sappington said. "The abundance of alternatives is clearly impacting the traditional TV industry. Well over 60% of households now subscribe to one or more OTT video services, and one-third subscribe to two or more services. Traditional players have taken notice and many have launched their own OTT offerings in an effort to get out in front of the shift."