A new study from Ampere Analysis showed that audiences ages 55-64 still prefer linear TV to streaming video on demand (SVoD) services like Netflix and Amazon. In the U.S., only 20% of this audience has viewed Netflix within the last month; in the UK, only 10% have.
"Older viewers are often an overlooked audience segment, despite representing a fifth of target viewers (and a sixth of all adults) – and an increasingly wealthy portion of the population," said Richard Broughton, Director at Ampere Analysis. "Smart TV penetration is reasonably high amongst this group, and they are using the broadcasters' catch-up services already, so it should be possible to encourage them to take SVoD services. The key to understanding the dynamics of this hugely varied group is to get the content offer, package, price and message right and introduce them to the world of SVoD. Content suiting the genre interests of this group (such as Netflix's 'The Crown') is already beginning to filter through to services and will do much to improve the saleability of SVoD to this audience."
Even though the 55-64 group owns smart TVs, they almost exclusively watch content on TVs as opposed to mobile devices or tablets, where SVoD services have been able to capture younger audiences.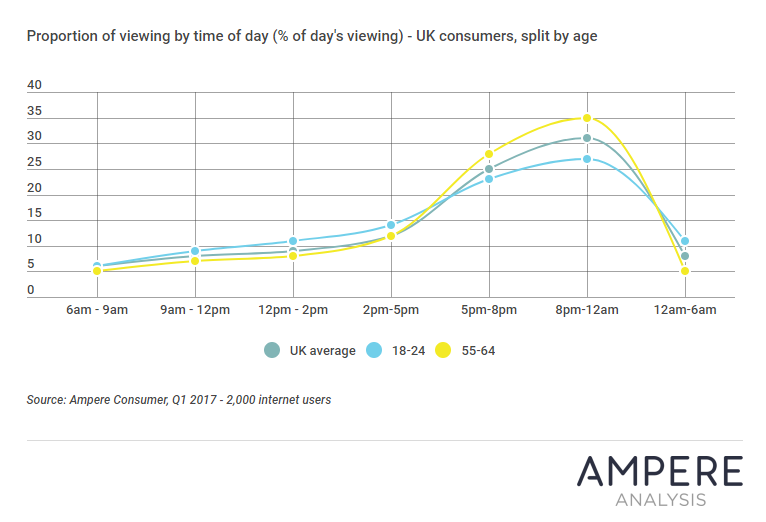 Additional insights via the research:
Older viewers are substantially less likely to have SVoD (33% less likely), premium channels (31% less likely) or music services such as Spotify (65% less likely)
Services such as Netflix and Amazon Instant Video are yet to take off among viewers aged 55-64. In the UK, just 13% of older viewers watch Netflix and 8% use Amazon
However, the catch-up services of the main national broadcasters are enjoyed by older audiences. In the UK, 53% of older viewers watched BBC iPlayer, and 34% watched ITV Hub in the last month – that's just one percentage point difference from the average viewer (where it's 54% for BBC iPlayer and 33% for ITV Hub). 19% watched All4 compared to 28% of all viewers, and 17% watched My5 compared to 18% of all viewers
In Germany, ZDF's catch-up service ZDF Mediathek was watched by 25% of 55-64 year olds in the last month, compared to 22% of all viewers. For RTL Now, it's 7% and 10% respectively
Globally current affairs, news, documentaries, crime and thrillers are the genres of choice for older viewers. 18-24s prefer horror and comedy, sci-fi and fantasy
In terms of the times they watch TV, their behaviour matches that of the total viewing audience, with most viewing during the peak hours of 8pm to 12am – a contrast to younger viewers, who increasingly use connected devices to view during the daytime