Netflix France offered "House of Cards" fans free Frank Underwood merchandise in exchange for merchandise of one of the losing French presidential candidates.
Ton candidat a perdu les élections ? Change de leader. #HouseOfCards

♻️ https://t.co/3reNRfXj0R pic.twitter.com/rE0C0s10VG

— Netflix FR & BE (@NetflixFR) May 10, 2017
In April eleven candidates ran for president in France and after the run-off on May 7, one candidate won by a decisive margin. This left supporters of the ten defeated candidates with a whole lot of useless campaign apparel and merchandise, which can neither be returned nor reused.
To offer comfort to residents whose preferred presidential candidate hadn't been victorious during the French presidential election, Netflix France launched a clever campaign, seizing the moment to attract attention for the release of season five of the critically acclaimed political series "House of Cards". The 'Change for Frank' campaign doesn't only give the useless campaign apparel and merchandise new meaning, but also gets "House of Cards" fans excited and creates buzz around the new season.
In exchange for merchandise of the losing presidential candidate, Netflix offers campaign goodies of the only politician who never loses: Frank Underwood. Frank Underwood is the main character on "House of Cards" and is currently serving as the 46th President of the United States on the show. Season five of the political series is released on May 30.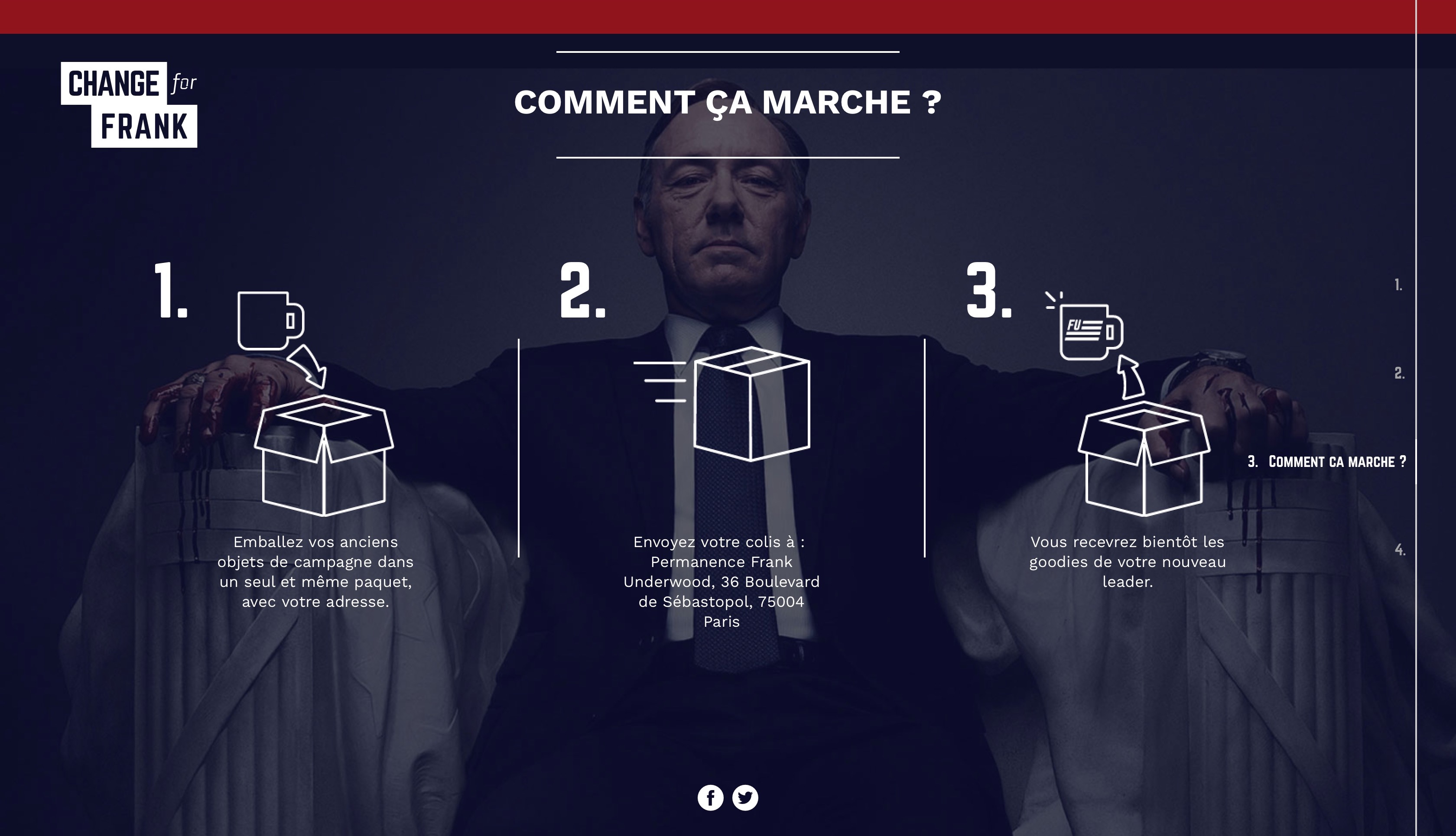 Now, fans who own hats, mugs, t-shirts and other merchandise of a losing French presidential candidate can send them to the apparent address of the character Frank Underwood in Paris and will receive Frank Underwood goodies in exchange.
To provide fans with the details, Netflix France launched the changeforfrank.fr web page, that gives instructions on how and where to send the useless campaign merch. Furthermore the website features the official season five trailer.
Once again, Netflix has managed to blur the lines between fiction and reality and lets fans dive deeper into the story of "House of Cards". Netflix France has accomplished to turn a bitter pill into joyous engagement.
Henner Herwig Jürgens is the Managing Director and Cofounder of VAST MEDIA, a media research and consulting company based in Berlin that provides international television industry leaders with qualitative competitive market analysis of digital entertainment and content marketing. These posts are based on their platform VAST BUZZ which contains thousands of these cases studies.