In a new chatbot experience by Audience, fans of "Mr. Mercedes" can chat with the show's serial killer who works at the virtual helpdesk of a fictional IT store.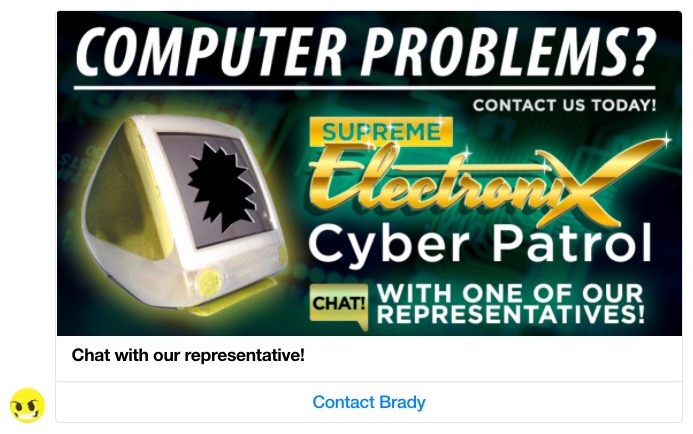 Prior to the debut of AT&T Original thriller series "Mr. Mercedes", Audience and creative agency Mistress released a chatbot on Facebook Messenger that lets users chat with the show's sadistic psychopath Brady Hartsfield, who works at the fictional IT store Supreme Electronix.
The chatbot experience first invites users to chat with the customer service of the fictional electronics store. The interaction starts by running some diagnostics on the computer, but soon the bot starts asking more personal questions, which hints at how clever the psychopathic killer of the series gets information about his victims. Users are also asked to answer questions related to their friends, such as who would be the one friend they would help escape from the basement if all their friends were imprisoned there. After completing the set of questions, the bot provides a link to the fake social network Under Debbie's Blue Umbrella as well as a password.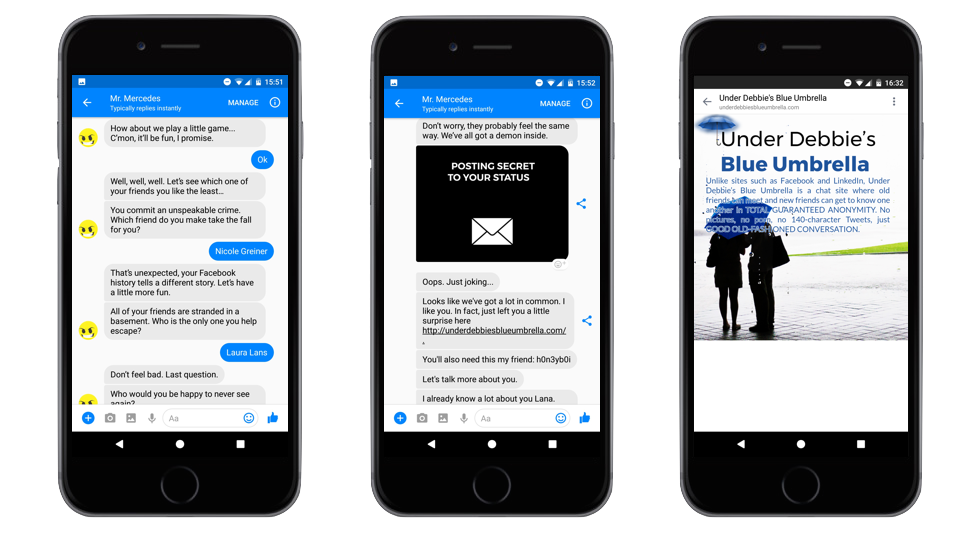 After entering the password, users are prompted to download Spy Cam, a secret spyware software. By doing so, the screen goes black and users receive a message from the serial killer who has now apparently hacked the user's computer. Users can then return to the chatbot experience. Again, they engage in a series of personal questions related to hypothetical crimes and dark secrets. Once in a while the bot makes a joke about posting personal details publicly on Facebook, which it doesn't actually do. The bot also reveals a hidden website that contains exclusive behind-the-scenes material. The chatbot sends a coupon for a "free scoop of horror" at the faux ice cream shop Mr. Friendly's Frosteez, whose website features the exclusive material. An ad on the official "Mr. Mercedes" website also links users to the faux Mr. Friendly's Frosteez page.
After another round of questions with the bot, users get to know how much of a psychopath they are according to Brady. During the run of the season, the chatbot is used to share additional material, teasers and other show-related content with fans, making it a fun and unique way to engage with the series.
"Mr. Mercedes" is based on the bestselling novel of the same name by Stephen King and premiered on Audience on August 9.
Nicole Greiner is a research analyst at VAST MEDIA, a media research and consulting company based in Berlin that provides international television industry leaders with qualitative competitive market analysis of digital entertainment and content marketing. These posts are based on their platform VAST BUZZ which contains thousands of these cases studies.